Epson is a leading global imaging and innovation company committed to manufacturing compact, energy saving and high-precision technology. Epson recently launched PowerLite 470, 475W, 480, and 485W, four ultra-short throw projectors designed for K-12 classrooms.
"Today's classrooms need bright images to capture active minds, and our goal is to allow teachers to focus on their students and lessons, rather than their classroom equipment," said Heather Litus Johnston, product manager, Epson America Inc., before adding "These new ultra-short throw projectors deliver minimal shadows and no glare in teacher's eyes, as well as vibrant images and crisp text and lines on dry erase or interactive whiteboards."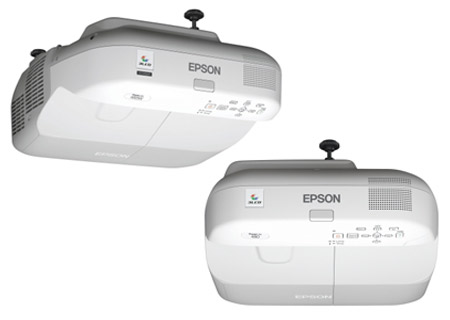 PowerLite 470, 475W, 480, and 485W perfect teaching tools for teachers as they now will be able to use these short throw projectors along side dry erase or interactive whiteboards. The PowerLite 470 and 475W are said to deliver 2,600 lumens color and white light output each, while PowerLite 480 takes 3,000 lumens into account along with white light output. PowerLite 485W emits 3,100 lumens and white light output. Both PowerLite 470 and 480 offers XGA resolution claiming to project 4:3 content up to 93-inches diagonal, where as PowerLite 475W and 485W offers WXGA resolution for widescreen content and claims to project 16:10 image up to 100-inches diagonal.
All four PowerLite products offer extensive connectivity features like HDMI connectivity, RJ-45 or optional Wi-Fi 802.11 b/g/n to ensure that the students are provided with high quality education through audio and video lectures. These projectors can also be controlled remotely via projector's IP address and messages for the entire school can be relayed through them. Also present is the USB Plug and Play support that allows instant projection of videos with audio, while you can also connect your PC or Mac and project the presentation stored on your laptop. These ultra-short throw projectors can be mounted almost 8 inches away from the screen and can be used with a standard or interactive whiteboards to easily accommodate smaller classrooms or conference rooms.
This newly launched PowerLite series from Epson offers convenience, increased flexibility and advanced features to educators. PowerLite 470 is currently priced for approx. INR 69,999 whereas prices for PowerLite 475W, 480 and 485W are approx. INR 75,002, INR 75,002 and INR 80,005 respectively. The lamps have an extended life of almost 4,000 hours on economy mode while the replacement lamps cost only approx INR 3,952, in a bid to lower total cost of ownership. With Epson PowerLite series installed in your classroom your students will never have to go through a dull moment.