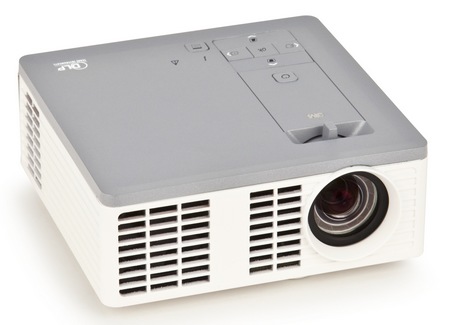 With the introduction of MP410 in India, 3M has expanded their list of LED projectors. It is the world's smallest 300 lumen pico projector and is of a palm size with a weight of 0.5 kg. It comes with an impressive 20,000 hour long LED Life. It offers WXGA / 720p resolution as well as 1GB of on board memory, in addition to it, an option of micro SD memory expansion (up to 32GB) to store a number of movies which can be viewed inside the house or while travelling. It provides an amazing wireless streaming option and is ideal for streaming content wirelessly from smartphone, tablet or laptop.
The projector offers impressive connectivity as it can be connected to any device like smartphones, laptops, AV and iOS devices. It is compact and can fit anywhere, one easily place the world's smallest 300 lumen projector inside a briefcase or in a pocket. Users don't need to wait for boot up or purchase expensive replacement lamps or replace filters as it comes with instant on and off. The projector is ultra bright and has 300 brilliant LED lumens. The device is also in notice for its excellent wireless streaming option as it comes an option of purchasing wi-fi dongle with the projector.
Here, is a look at some the features of the projector:
HDTV: 720p, 1080i, 1080p/60, 576i, 576p
Upto 20,000 hour light source
Memory Card Reader, USB Port, Soft Carrying Case, Closed Captioning
Up to 100″ projected image size
720p/ WXGA resolution projection for great quality, clear images
After launching the MP410 projector in India, Mr. P T Mukund, Executive Director, Display & Graphics Group, 3M India, informed that people are eager and looking forward to such a technology that enable them to be mobile and efficient at the same time. 3M is the first company in the world to have come with LED projectors.
With such excellent features 3M MP410 is expected to be a big hit in the projector market, however, it is now on the people to decide if they are interested in buying the product or not.
Portronics is an Indian company that hit the market by introducing POR 315 Pico Projector, which is of very small in size. This light weight and dwarf pico projector is appreciated by the user for longer battery life. POR 315 Pico Projector is smaller than a smart phone and thinner than an inch. The hand held device corroborate HDMI input with a resolution supporting 1024X600 pixel. With the help of this new pocket sized projector, college students as well as business professionals can easily exhibit their presentation very easily.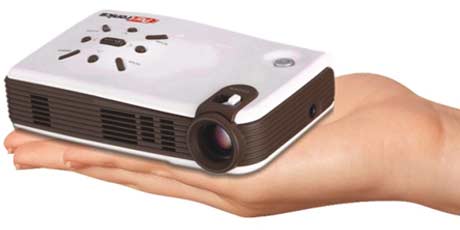 The portable and light weight 315 pico projector consists of 1 Watt On-board Speaker, USB Port, VGA Input and a SD card slot that is used for memory expansion. Our user can dexterously connect it, to play stations and portable DVD players, in order to enjoy the games that are loaded on multimedia files. Supported by powerful 3000 mAh lithium ion battery, the creation provide power back-up up to two hours on a single charge. This device supports JPEG, BMP and PNG images and WMA, MP3, M4A, AAC music files. The POR 315 Pico projector comes in 45 lumen optical engine that is powered by LCOS. It has the capacity to provide LED light source that can last over 20,000 hours at one stress.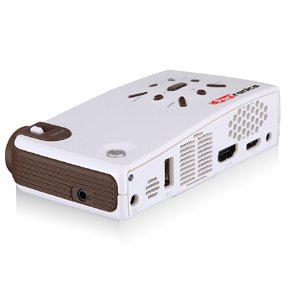 The palm sized projector supports MPEG 1, MPEG 2, MPEG 4, H.264, RM, RMVB, MOV, MJPEG, VC1, DivX, FLV Video files. This multi functional device consists of various ports like Power Adaptor, SD Card Support, TV in for easy accessibility. The portable 315 Pico Projector is safe and convenient to use, because it provides direct projection through the USB drive. This newly launched POR 315 Pico projector is available in India and can be purchased at Rs. 23,000.
A few features of the Portronics POR 315 projector are mentioned below:
Portable – Palm-sized and rechargeable
Projection for wide screen images up to 80 inch diagonal
Full assortment of I/O ports that allows easy and safe connection, to most analog and digital devices
Epson is a leading global imaging and innovation company committed to manufacturing compact, energy saving and high-precision technology. Epson recently launched PowerLite 470, 475W, 480, and 485W, four ultra-short throw projectors designed for K-12 classrooms.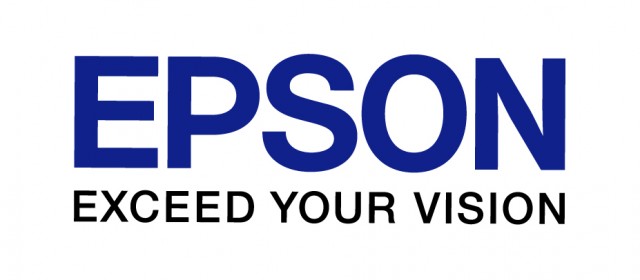 "Today's classrooms need bright images to capture active minds, and our goal is to allow teachers to focus on their students and lessons, rather than their classroom equipment," said Heather Litus Johnston, product manager, Epson America Inc., before adding "These new ultra-short throw projectors deliver minimal shadows and no glare in teacher's eyes, as well as vibrant images and crisp text and lines on dry erase or interactive whiteboards."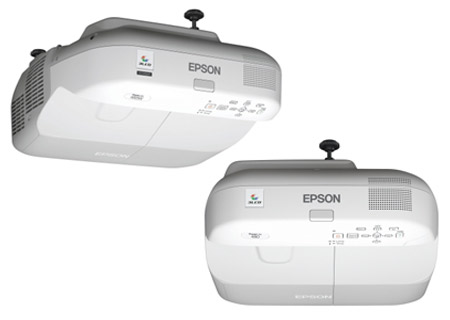 PowerLite 470, 475W, 480, and 485W perfect teaching tools for teachers as they now will be able to use these short throw projectors along side dry erase or interactive whiteboards. The PowerLite 470 and 475W are said to deliver 2,600 lumens color and white light output each, while PowerLite 480 takes 3,000 lumens into account along with white light output. PowerLite 485W emits 3,100 lumens and white light output. Both PowerLite 470 and 480 offers XGA resolution claiming to project 4:3 content up to 93-inches diagonal, where as PowerLite 475W and 485W offers WXGA resolution for widescreen content and claims to project 16:10 image up to 100-inches diagonal.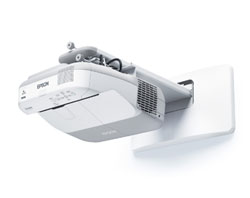 All four PowerLite products offer extensive connectivity features like HDMI connectivity, RJ-45 or optional Wi-Fi 802.11 b/g/n to ensure that the students are provided with high quality education through audio and video lectures. These projectors can also be controlled remotely via projector's IP address and messages for the entire school can be relayed through them. Also present is the USB Plug and Play support that allows instant projection of videos with audio, while you can also connect your PC or Mac and project the presentation stored on your laptop. These ultra-short throw projectors can be mounted almost 8 inches away from the screen and can be used with a standard or interactive whiteboards to easily accommodate smaller classrooms or conference rooms.
This newly launched PowerLite series from Epson offers convenience, increased flexibility and advanced features to educators. PowerLite 470 is currently priced for approx. INR 69,999 whereas prices for PowerLite 475W, 480 and 485W are approx. INR 75,002, INR 75,002 and INR 80,005 respectively. The lamps have an extended life of almost 4,000 hours on economy mode while the replacement lamps cost only approx INR 3,952, in a bid to lower total cost of ownership. With Epson PowerLite series installed in your classroom your students will never have to go through a dull moment.
Viewsonic has come up with new range of tablets, monitors and 3D ready projectors. The three tablets launched by it are ViewPad 7x, ViewPad 7e and ViewPad 10pro. The 3D monitors launched comprise V3D245 and V3D231. The 3D ready projector is dubbed as PJD5523w. Features-
ViewPad 7x
Android Honeycomb version 3.2
Nvidia Tegra 2 Dual Core A9 1GHz processor
7 inch multi-touch capacitive screen, boasting a pixel resolution of 1024 x 600
8 GB of internal memory
An external memory expandable up to 32GB through microSD card slot
A 5MP primary camera
A 2MP secondary camera
1080p full HD capacity
DLNA
Epson has launched 2 new full High Definition (HD) projectors that are perfect for viewing movies, playing video games and more. They are: the EH-TW3000 and EH-TW4000. Both the projectors offer projection at full HD resolution of 1080p and a very high contrast ratio: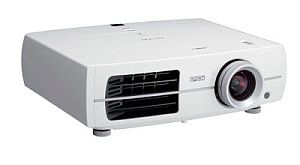 Contrast ratio:
EH-TW3000 : 20,000:1
EH-TW4000 : 75,000:1 (That's cool) Read more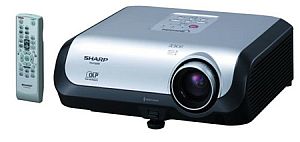 Sharp has added two extremely new WXGA-resolution multimedia projectors in India.
These are: the PG-320W and the PG-F255W. Both the models are launched keeping the business professionals in mind and are decked with WXGA compliant projection.
They offer tempting features like:
True-to-life images with superior quality
Flexibility, ease-of-use
Portability
Resolution of 1280 x 800 pixel
16:9 widescreen viewing area
1.3 times wider as compared to the conventional XGA (1024 x 768 pixel) resolution
Brilliant Color Technology with Six-Segment Color Wheel technology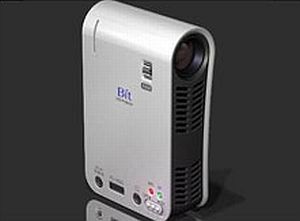 Adtec has come out with its new AD-MP15A pocket projector, which was released in Japan. The dimensions of the pocket projector are 27x58x90mm and it weighs 147g.
Some striking features of this great technology are: Read more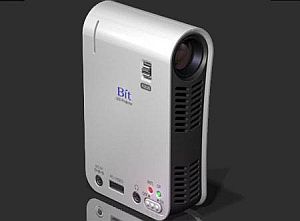 Pocket projectors are getting immensely popular these days. So why should Adtec be left behind? The company has released the AD-MP15A pocket projector in Japan but according to certain speculations, the launch in India has not been mentioned yet! Read more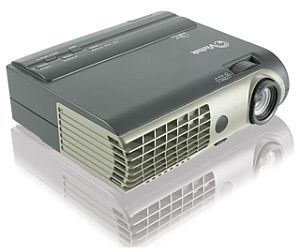 In addition to its existing range, Vivitek has now launched a new series of projectors in India. The new line-up is named as D8 series and it include D825MS and D825MX projectors. Both the projectors weighing 2.6 Kgs are incorporated with DLP technology from Texas instruments, which results in displaying better images. The Brilliant color feature of models provides better brightness of vibrant colors.
Press release about the new projectors tells that brightness of two models is upwards of 2,500 ANSI Lumens as well as support SVGA and XGA resolutions. The screen size of D825MS models is 24.6 inches -246, while projection size of D825MX model is 23 inches -255 inches. The native resolution of D series is 800×600 along with a 4:3 native aspect and 2000:1 contrast ratio. Read more
In its first major foray in the Indian market, Samsung Electronics has rolled out a new series of digital products and IT peripherals. The list of the newly launched products includes digital photo frames, digital projectors and a range of LCD monitors.Currently, there is a huge demand for LCD monitors in the Digital technology market. Reportedly it accounts upto 70% of the market and with an eye to capture this target, Samsung has introduced three energy efficient LCD Monitors- the T Monitor, Myst Plus and Lime series.
The series of T monitors features a wide display format and they are available in 19", 20" and 22" models. The panel feature supports more than 16.7 million colors and a response time of two mili seconds. The Monitors are available within the price range of Rs 12,500 to Rs 15,500. Read more