Apple has always been ahead in the hardware race from its competitors, yet it keeps on coming with something new and innovative for its consumers. They always serve people in the best possible way they can. However, it has been rumoured that Apple will launch iPhone 5 with NFC support. The investigation of the upcoming iphone prototypes – N41AP and N42AP by 9to5Mac lead to the conclusion that the company may introduce iPhone 5 with NFC (Near Field Communication) for PassBook App in iOS 6 built in to the Power Management Unit.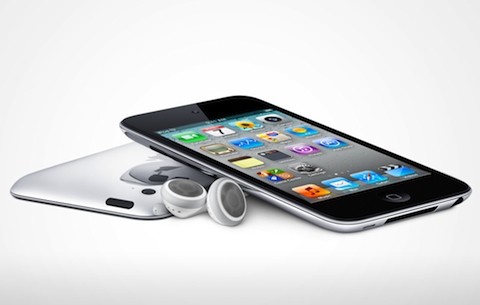 Apple has already introduced the PassBook application at WWDC this year. The PassBook application comes with a unique feature to make the phone act like a wallet and help the consumers to pay for goods and services. Now, with the introduction of NFC in the upcoming iPhones, it would be easier to do so, as it will function similar to Google's Wallet and the latest app named 'Wallet' by Microsoft. CTO of SITA, Jim Peters stated, "Opinion is that Apple is going to incorporate NFC into Passbook. Apple just thinks about how they can make it really easy for the user, and then they figure out how to monetise it. They don't think about how to monetise it and then tell the user what they can have. There is a lot of debate that NFC will never take off because of all the arguments. But you need to get ready, this is coming. This is going to happen. By the end of the year the majority of smartphones that you go and buy will have NFC on them. If in October the next iPhone comes out and it has NFC on it, it's game over."
We get to hear rumours about Apple everyday but it is hard to believe all. Now, after the confirmation of iOS 6, the rumours seem to carry some weight. Head of Emerging Payments at MasterCard, Ed McLaughlin stated,"The timeline is always as rapid as it makes sense for consumers," he said. "That's a combination of having a critical mass of the merchants, which is what you're seeing right now, and getting devices into the hands of consumers. I don't know of a handset manufacturer that isn't in process of making sure their stuff is PayPass ready."
Apple has always been very particular about every update and now if the company is planning to introduce iPhone5 with NFC support, then a good response from the buyers can easily be expected.
Apple has been in news for quite a while for its rumours with changes in appearance of the upcoming iPhone5. Two of the most hyped rumours are that iPhone5 is expected to feature a larger display as compared to its previous models and the other is that it will come with a micro dock which will be much smaller in size than the previous one. However, the latter seems to be a confirmed information by TechCrunch as the upcoming device will feature a 19-pin dock instead of a 30-pin dock which comes with the current iOS running devices.
The report stated, "Although the form factor and actual size are still unknown, TechCrunch has independently verified that Apple is working on adding a 19-pin port, replacing the current 30-pin port, to the new iPhone. It is a move that will surely send shocks through the iPhone accessory ecosystem." They go on to add, "Three independent manufacturers all agreed that the 19-pin dock port is in the works and many accessory manufacturers are facing an uneasy few months as they wait for official news of the standard to be announced."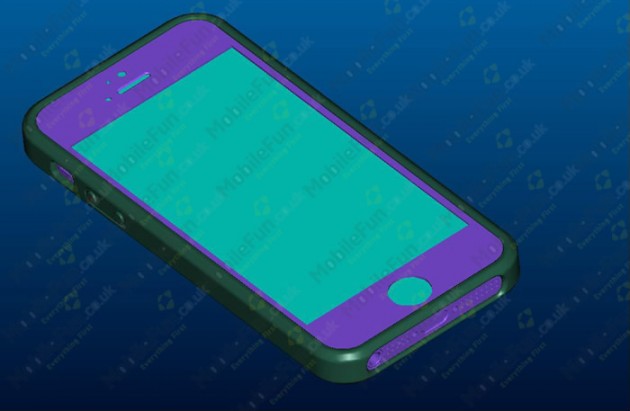 Even MobileFun showed a list of possibilities of changes that might take place in the new phone. Its website presented a leaked picture of a case to get an idea of how the change in dimension of the device will affect its look. The report staff of MobileFun stated, "It looks like the iPhone 5 is getting closer to release, as we've seen a few tantalising images leak of the hotly anticipated next-gen handset. Today, we've got a few more fresh images that may confirm that the iPhone will indeed be a fairly drastic redesign from the iPhone 4 and 4S. One manufacturer we spoke to said that he was sure that the leaked images were accurate – so sure that he was already preparing to construct iPhone 5 cases and he'd be willing to ship replacements for free if they turned out not to be perfect."
It is expected that the upcoming phone will be bigger in size as compared to its previous versions. It will measure 58.47 mm in width and 123.83 mm in height with a 4 inch display and 7.6 mm of thickness. The headphone jack of the device will also be located down instead of the top and the dock will be reduced to almost of a size of a micro USB.
The report also stated, "There are some other big changes afoot if this leak is accurate – the speaker grilles are much bigger and more pronounced on the bottom of the phone. The rear chassis is also new, with a two-colour aluminium design that separates the main rear cover from the antennae. Inside, there are expected to be changes too – including high speed LTE connectivity and the iOS 6 operating system. The phone is expected to launch in October."
This year experienced a whole lot of change in the new age mobile technology from different parts of the world. Samsung and Google introduced one of the most awaited smartphones – Galaxy S III with many new and advanced features and is being appreciated worldwide. Microsoft is soon to launch Windows Phone 8 handsets in the market while Apple is still to introduce iPhone 5. Just when the competition has reached to its highest stake, CEO of Foxconn ( iPhones manufacturing company), Terry Gou bluntly commented on Samsung. Releasing bold comments openly is not a new thing for Terry Gou, in fact, he has previously referred Foxconn workers as animals at a press conference.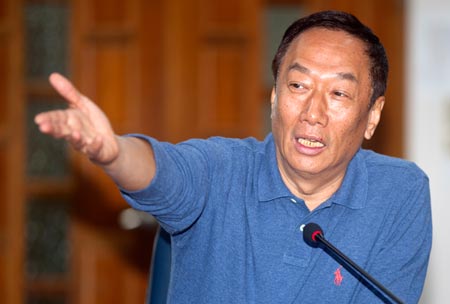 In a report by Focus Taiwan news channel, Terry Gou commented that people should wait till the company launch the latest 'i' device – iPhone 5, in the market as it will put Samsung Galaxy S III to shame. He further told that defeating Samsung is his lifelong goal.
However, it has been reported that the yet to be released iPhone 5 will come up with a complete massive redesign and there have been speculations made regarding a larger screen display been provided to the phone. The device is to be launched in October and will run on the latest iOS 6. With Samsung Galaxy S III running on ICS and Apple to provide iPhone 5 with advanced features, it is high time for Microsoft to come up with some new innovation to catch the race. However, with the soon to be introduced next version of Android – Jelly Bean, might prove to work right for the company and turn the tables for them but in any case, going with the current scenario, we would like to advice Mr. Gou to choose his words wisely before speaking.
Apple has been in news for its another hardware to be launched in the market – iPhone5. Apple's macbook pro was a huge hit since its launch, its Retina Display was one of the most applauded feature of the device and there is a huge expectation with the upcoming phone. Last time, Apple didn't undergo any change in the design of iPhone4 as compared to its previous versions. A lot of guesses are being made about the design of the soon to be launched iPhone5.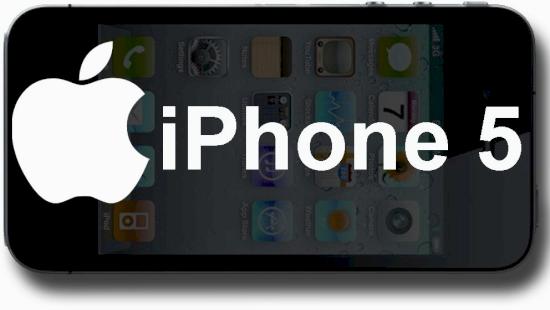 In a report by CNET, Shaw Wu said, "The sixth-generation iPhone is expected to sport three big improvements. Picking up intel from suppliers, Wu sees a new form factor, a slightly larger screen, and 4G LTE support built into Apple's next flagship phone. These features should help the upcoming iPhone outscore the iPhone4 and 4S at picking up new customers and enticing existing ones to upgrade."
It was a matter of concern for Apple regarding the effect of iOS 6 in the world's largest smartphone market, China. Apple even declared at the Worldwide Developers Conference that the application 'Siri' could now understand Chinese languages like Mandarin and Cantonese making sure that Apple focuses on users globally instead of just targeting the US audience. The report stated, "The phone (iPhone5) will work with China Mobile's proprietary TD-SCDMA 3G network, says the analyst. Both China Mobile and China Unicom have been testing 4G LTE. But full adoption of LTE is a few years away, so support for 3G is crucial if Apple is to gain further traction in the Chinese market."
There are possible changes done to the new iPhone by Apple. It is expected that the device may increase its display to 4 inches in size but the screen size will not be affected. There will just be an increase in the height of the phone, providing it with a resolution of 1136 x 640 pixels.
iPhone5 will also experience a change in the location of the headphone. Headphone jack in the previous iPhones were at the top, now the company has decided to place it down. The device will also witness a change in the size of the connector dock which will be smaller in size as compared to the dock in the previous phones.
Apple came up with another new feature for iPhone 4S. The phone has been introduced with 3D map viewing over the turn by turn directions. This new feature is available in iPhone 4S but not in iPhone 4.
Anton Titkov, a developer of Apple came up with the 3D maps viewing service which will feature only in iOS 6 supporting iPhone 4S as told by SlashGear As per the report of the Russian website, iguides, it is told that the developer introduced 3D maps as it was difficult for him to go with the turn by turn navigation. Enabling 3D maps on iPhone is not an easy task. It follows a third party installation. Apple devices come with a jailbreak and Cydia store is not successful in jailbreaking iOS 6 devices so the users are left with iguides to try an attempt to get 3D maps for their phone by visiting its site.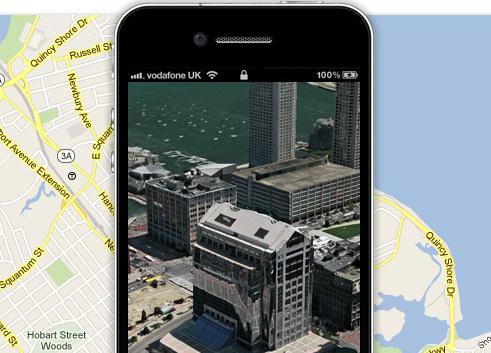 Along with the introduction of 3D maps to iOS 6 devices, Apple came with a lot many other features for the Operating System in this year's WWDC. Apple didn't stop after the announcement of iOS 6, the company also came with Facebook integration and Siri for iPads. Apple also informed that Siri will feature more languages like Spanish, Italian, Korean and many others.
Siri has been made more advanced to provide users with latest scores and restaurant recommendations. Siri can also be used to browse and update social networking sites along with sharing photo streams.
With Apple coming with 3D maps feature, are you more interested in buying iPhone 4S?
Apple has again come in news but for a different reason this time. The company may soon launch their next iPhone devices with interchangeable lens. Though the news is not confirmed but it's spreading like wildfire everywhere. Apple iPhone 4S was earlier rumoured to come with larger screen display but it didn't come true.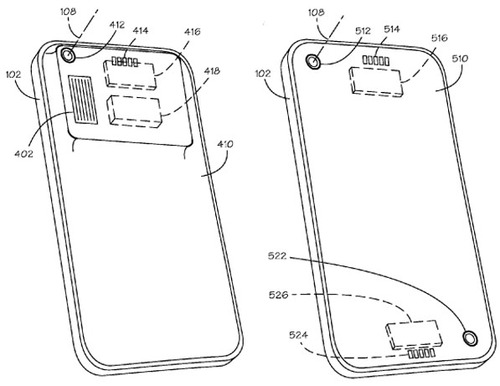 It has been reported by Apple Insider that the company may come with swappable lens for their next generation iPhones. Analysts and users are already aware with the camera quality of iPhone 4S. In fact, a fashion shoot has been taken and edited entirely through iPhone 4S but Apple can still go for further development in the device. A patent released by Apple back in 2010 stated, "A portable electronic device includes a digital imaging subsystem with a lens having an optical axis. A case encloses and supports the digital imaging subsystem in a first defined positional relationship to the case. A removable panel is coupled to the case and held in a second defined positional relationship to the case that covers the digital imaging subsystem without the removable panel being directly connected to the digital imaging subsystem. An optical component is supported by the removable panel such that the optical component is aligned with the optical axis and alters optical characteristics of the digital imaging subsystem. The device may include a power supply and an electronic control system coupled to the digital imaging subsystem and the power supply enclosed in and supported by the case."
The patent talked about the removal of the back panel of the phone in order to fit a swappable lens. If this happens then for the first time, we will witness iPhone without a back cover. The company may even provide the device with a microSD card slot. The Apple is already adapting the general notebook version by adding USB 3.0 and HDMI to it. If Apple does go for a change, then they will have to be really careful with the design of the lens as the user might damage it while adding a filter.
It is still unclear if Apple iPhone will come up with an interchangeable camera lens or if they do, will you be interested in buying it?
A great chunk of the thrill and usability of iPhone comes from its applications. While the device boasts of a number of applications, there are some which are really amazing.
The followings may be classified as the top 5 iPhone GPS applications: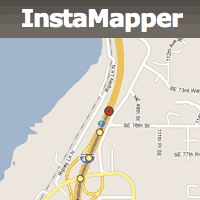 GPS Tracker
Launched by InstaMapper, GPS Tracker helps you track an iPhone in the Internet by using Google Maps. The application ensures that the location of the iPhone is updated every five minutes, so that you are able to identify the exact position of the device. It keeps delivering data in formats, such as KML and CSV, while allowing data access through APIs. You will be able to record the tracks, thus by being able to analyze them later. And you can record around 100,000 locations for each of the devices that you want to track.
And while you can use this application to share your location with friends, relatives, etc., it will also help you to embed maps to your Facebook account, blog and web pages.
MapQuest 4 Mobile
The attraction of MapQuest 4 Mobile lies in its ability to make your iPhone speak out directions, thereby helping you to locate restaurants, petrol pumps, etc., with just a tap on your device. It also keeps briefing you about traffic updates every five minutes. And yes, it will not stop giving you directions even when you will be attending a call or listening to music on your iPhone.
The MapQuest 4 Mobile is also able to work on high saving settings on those occasions when your smartphone's battery is low.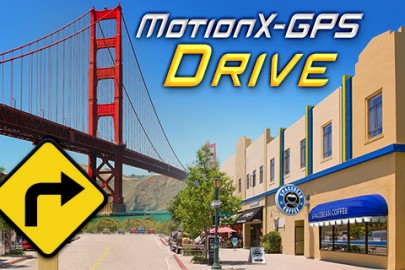 MotionX GPS Drive
This iPhone application, flaunting various handy tools, enables the device to act as a high quality driving or pedestrian navigation solution. The application is equipped with MotionX Find-N-Go technology, with the HD synthesized voice clearly speaking out the relevant street names.
Apart from maintaining an up-to-date Map data, MotionX GPS Drive also includes Live traffic flow maps. It also enables the user to conduct POI search, courtesy its integration with local search and Wikipedia.
It can also be synchronized with the address book of the iPhone in which it has been installed, and enables the user to make a direct call to a located venue. The application equipped with voice guidance also enables you to share crucial information like location and destination through emails.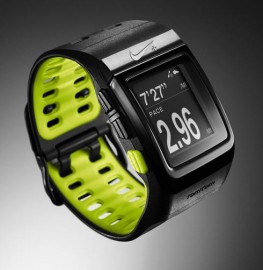 Nike + GPS
It is a great application for you if you are a fitness enthusiast and want to keep a track of all your workout sessions (both the indoor as well as outdoor ones). Notably it does not use any sensor to track your progress. Rather it entails the use of GPS and accelerometer technology, by the virtue of which you can track the speed, route and distance, and can also work on improving the same on every passing day.
A key characteristic of the Nike+GPS is its voice feedback. It acts as a motivational force. Moreover, it allows you to proudly share all your accomplishments through social networking websites, such as NikePlus.com, Facebook and Twitter. You will also be thrilled to know that this application is 'multi-lingual', given the fact that you can make it talk to you in select languages, such as French, Spanish, German, Portuguese, Japanese, Chinese and Italian.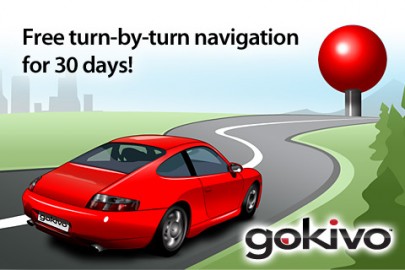 Gokivo GPS Navigator
While this application speaks out street-names, it also helps you to get re-routed in case you have lost the way. NIM's server-based Traffic Tracking Center generates traffic alerts, thus offering real time information coupled with detours, thus helping you to reach your destination. Then there is the integrated Yahoo! Local Search, which helps you to locate the nearest hospitals, restaurants, etc., along with customer reviews and ratings, and also helps you to make direct calls to them.
Along with the updated map, the application offers you information about the speed, time of arrival, distance, etc. It can also be perfectly in sync with in-app music player, contacts integration, iPhone UI and in-app e-mail option.
Three new iPhone 4S advertisements have been launched by Apple.The ads highlight the features that keep iPhone 4S ahead of iPhone 4 – iCloud, upgraded camera and Siri.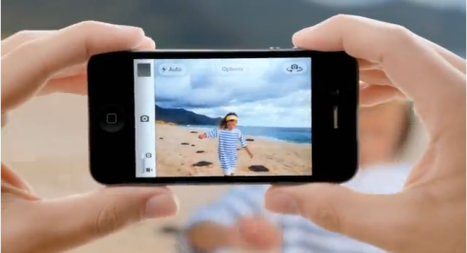 The ad on the camera highlights the device's photo editing capabilities, beside projecting its Twitter integration.
The ad on the iCloud informs the viewer that if he downloads a song on his iPhone from iTunes, then the song will automatically show up on the iTunes of the user's Mac. The ad also shows that if the user bookmarks a page while reading a book in iBooks, then the same mark will be in sync with his iPad.
The ad on the Siri shows how it uses the phone's map application to give necessary direction to the user who is to visit a certain hotel. The ad also shows how a child helps the service to have some idea about how the weather will be on that day.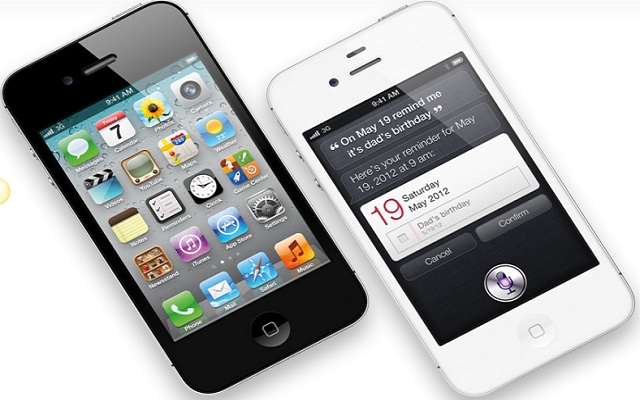 Apple launched the iPhone 4S on, predictably on the 4th of October, in Cupertino-but in a muted way. Possibly because the world has been looking for the iPhone 5, and not -a very similar to- iPhone 4, iPhone 4S! Anyways, the good news is that once you get over the identical looks of both the phones, there are quite a lot of differences, that make the iPhone 4S a better performer. The gist of the changes made include a faster processor, a sharper camera, a 64 GB model and a new antenna design.
It will be available for online booking from the 7th of October and will be available in stores from the 14th of October.
Apple introduced the iPhone 4S as a feature upgrade to what the iPhone 4 failed to do. The 4S comes with Siri, which is a really smart personal assistant app. Siri uses voice recognition in order to give answers to question asked/spoken. With this phone, Apple is targeting the middle buyer segment. It is in this segment that Android phones are hugely popular, and Apple, under the guidance of the new CEO Tim Cook, wishes to claim its share in the pie.
What? No iPhone 5?
Even though Apple kept this launch very quiet, in fact announcing the phone in its office only, people had their expectations built. But technology experts and Apple's loyal customers had a disappointing experience with the news of the iPhone 4S being launched- the announcement did not create any ripples, as every one was expecting an iPhone 5 launch date.
The Features Of Apple iPhone 4S-
Operating System- iOS 5-The iPhone 4S runs on the new iOS 5- Apple's latest mobile operating system. It has some interesting upgrades like the advanced notifications and 'PC Free'.
Processor- The new iPhone 4S has a dual-core A5 processors, that is used in the iPad 2. With this processor come dual-core graphics. According to Apple, these graphics are up to seven times faster than those in the iPhone 4.
Camera- Users can click sharper pictures with the iPhone 4S's 8-megapixel camera. What's more, the lens is with a bigger aperture and an upgraded backside illumination sensor. Motion can be captured clearly with video recording in 1080p HD.
Smart personal assistant app -Siri- The iPhone 4S has a very interesting personal assistant beta app Siri. You can ask questions from it and get instant answers. For instance, you can ask the meaning of a word or the state of the weather, and it will speak out an answer to the same. Also, apart from answering you, it will also bring up any relevant apps, such as a weather app for you to see. You can use Siri for official works like dictating a document etc.
Better Download Speed- The phone has an upgraded wireless antenna set-up that will better the call quality as well as data download speeds. It is worth mentioning here that the Apple iPhone 4 users often suffered from antenna problems leading to poor reception.
Phil Schiller, head of worldwide marketing at Apple said at the launch event, "The iPhone 4S intelligently switches between two antennas to transmit and receive. Prior to this, Apple's handsets came in GSMA and CDMA variants for the different standards used in the US and elsewhere in the world. The iPhone 4S will support both technologies."
How Much Will It Cost?
Apple is taking online orders from the 7th of October, where as it will appear in the stores on the 14th of October. The cost estimated is-
UK- £499 will be charged for the iPhone 4 S. (iPhone 4 is at £429 for the 8GB model)
USA- $199 ( for a 16GB model on a two-year contract)
$299 (for 32 GB)
$399 (for 64GB)
What The Prices Mean?
According to analysts, the new and lowered prices of earlier 3GS and 4 models have been set with just one purpose- to match the competition's pricing. Mobile experts see this as a huge effort by Apple to break in the Android dominated market. Upper segment users will not be interested in this launch.
Should You Buy It?
If you are using a Symbian, then definitely. If you have an iPhone 4, then wait for the iPhone 5.
Hacker Timothy Elliot was not that appreciative of the themes that were available for jailbroken iPhones. So he had two options- either to await one that would suit his choice, or to develop one himself. And he went for the latter.
Dubbed Mac OS X Lion Ultimatum, it is a mobile version of OS X, and can be described as the one everybody had been awaiting since the launch of iPhone. It has been accepted by users as the easiest tool to use OS X Port, apart from being the most accurate and best looking, as well.