Epson a world wide manufacturer of printing devices, has expanded its K series printers by launching new all-in-one printer, Epson K300.
K300 uses monochrome ink system and is said to have maximum printing resolution of 1440×720 dots per inch(dpi) with variable-sized droplet technology. All-in-one monochrome printers are particularly designed to compete with mono laser printers and target consumers who only want black and white printouts. K300 comes with Automatic Document Feeder(ADF), and like its cousins in K series aims to lower the cost of per page printing.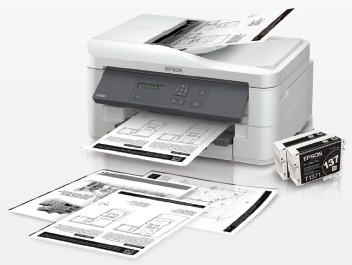 Epson K300 also has a 1200 dpi scanner, with an impressive scanning speed of 7msec/line for Monochrome 600dpi and 25msec/line for Colour 12000dpi. K300 is supported by a wide variety of Operating Systems such including Windows XP, XP Professional x64 Edition, Vista, 7 Mac OS 10.4.11 or later. K300 paper tray has an input capacity of 150 sheets to go with the output capacity of 50 sheets.
Epson K300 is now available in Indian stores tagged at INR 11,599.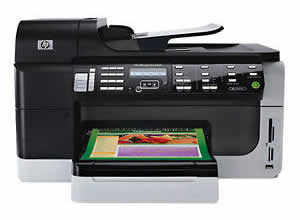 HP recently unveiled its All-in-one series printers – HP Officejet Pro 8500. These printers are known to produce excellent results while being energy efficient – a perfect fit for small and micro business consumers. Besides, delivering best color results the devices are also economically priced.
HP Officejet pigment ink and HP Scalable Printing technology have been integrated into the printers. Some of the other features of these printers are quick print speed, wireless networking options, device management software and wired. Read more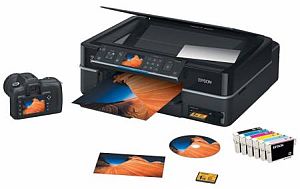 Epson recently announced the launch of its all-in-one wireless printer – Stylus Photo TX700W. This wireless printer is Wi-Fi enabled and uses 6 ink cartridges for better quality photo prints.
Following are some of its features:
Compact size with classic design.
Printing speed 40ppm (i.e. 4R photo in 10 sec).
Wi-fi and Ethernet Connectivity.
5760 x 1440 dots per inch (dpi) resolution.
Epson Claria Photographic ink can last for more than 200 years.
Individual ink cartridges for easy and simple replacements.
2.5-inch color LCD screen.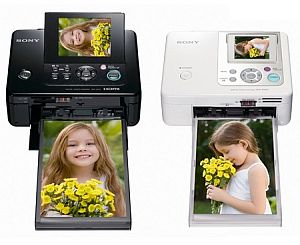 Sony has launched a range of its new portable printers : DPP-FP97 and DPP-FP67 that can be conveniently carried from one place to another. You can take them to your office, your vacation and other places without any hustle and bustle. Both the printers offer about 4 x 6-inch photo prints.
The DPP-FP97 prints photos in about 45 seconds, and on the other hand, theFP67 takes about 63 seconds. The DPP-FP97 gives its users the freedom to personalize their photos in a more advanced way. It is decked with some of the hot features like: frame, scrapbooking and calendar templates. Its new software keyboard allows quick typing of messages and personalized greeting cards. Read more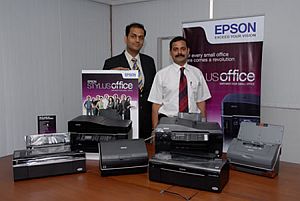 Epson has introduced a range of business printers in India. These are the new T30, T40W, TX300F and TX600FW. The company has also managed to enter the world of high speed document scanner with their new series GT-S80 and GT-S50 for the Indian target audience.
With the advancement in technology, these "ease-of-factor" office gizmos allow its users to print documents from anywhere, making the process extremely hassle free! Their features are: Read more
Xerox has launched a whole new range of printers for commercial and office purposes and has named the entire series as 'Color-In-Office Series'. These new printers are largely designed keeping in mind the necessities of Corporates, Large enterprises, SMEs, Advertising & Design houses. These printers in the 'Color-In-Office Series' are, Xerox Phaser 8860, Xerox WorkCentre 7328, Xerox WorkCentre 7232, Xerox WorkCentre 7655 and Xerox Phaser 6180 MFP.
Here are the details of the all the products, assigned chronologically:
Xerox Phaser 6180 MFP: The Xerox Phaser 6180 MFP is an all in one printer that is capable of printing, scanning, copying and faxing. It is extremely user friendly and delivers crystal clear color printouts. Phase 6180 MFP uses ea-HG toner technology, that allows the printer to instill enhanced image quality and it also increases toner yield. The Xerox Phaser 6180 MFP is priced at $799. Some of the salient features of this printer are: Read more
Epson has introduced two new multi-functional printers for the Indian markets. The two new models Epson Stylus TX200 and Stylus TX400 inkjet printers have been given the capabilities of a printer, scanner and copier in a single device.
The all new Epson Stylus TX200 comes with extremely user friendly features, such as basic user operable buttons that are located on the cover itself, thus turning the functions into a breeze. The printing speed of this inkjet printer is about 34 pages per minute and has the ability to print a single 4R photo in 19 seconds flat, offering a resolution of 5760 dots per inch. Epson Stylus TX200 is priced at Rs 5,999/- Read more
Lexmark, a global developer, manufacturer and supplier of printing solutions and products has recently announced the launch of a new series of wireless printers in both its personal and professional series. The new personal printers include the X4950, X5650 and X6650 models, and the X4975, X6675 and X7675 are the models available in the professional series.
The products are specifically designed and crafted for corporate or for personal usage with the state-of-the-art wireless technology that lets users print from elsewhere around their office or home. Read more
PC World reports that, Xerox has introduced its latest line of fast yet Continuous Feed Printers (CF). The brand new Xerox 650/1300 has been designed specifically for commercial purposes and is targeted toward service bureaus, data centers and commercial print providers. Read more
Targeted towards the small and medium business segments in the Indian Market, Hewlett-Packard has launched two new color printers, the CP1215 and CP1515n printers. The Laser Jet printers are priced at Rs. 17,299 and Rs. 21,699 respectively.
The HP Color LaserJet CP1215 Printer features the exclusive HP ColorSphere toner and Image REt 2400 technology, which delivers bright and sharp colors, clear lines and an amazingly high photo-quality resolution. It is regarded as one of the most affordable and low cost network ready color LaserJet printer, and it offers the advantages of both color printing and black and white printing at the same cost. The CP1215 can print at the speed of 12 pages per minute in black and white and 8 pages in color. The small and compact form of the printer also saves desktop space and it also conserves energy and decreases functioning time with HP's Instant-on Technology. Read more