Apple introduces a front and back smart case cover for second and third generation iPads at the WWDC 2012. It is made from polyurethane with a soft, color-matched microfiber lining that keeps the display clean. It is available in six vibrant colors. The slim smart cover folds easily into a stand for reading, typing, and watching video.  The case comes with a unique feature of wake on open and sleep on close. The smart case has been designed to match iPad perfectly. It is widely appreciated for it's sleek design and durability.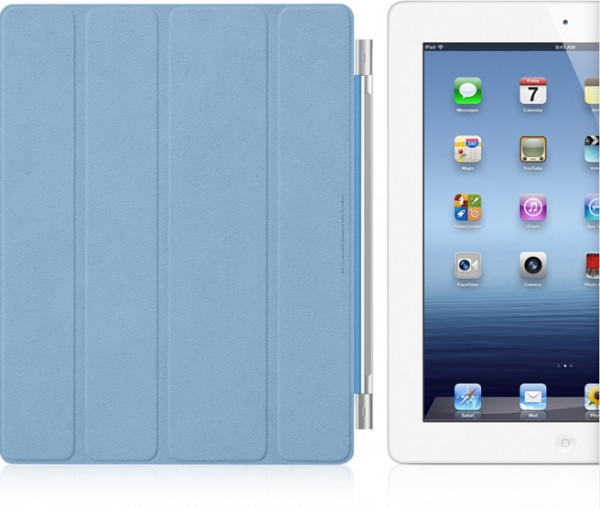 Here is an overview of the smart case.


Slim and Durable: The thin and sleek design of the case make more attractive. It is made up of polyurethane and acts as a hardshell coating for the back of  iPad. It fits iPad perfectly and doesn't feel like a cover while providing protection to it.
Wake on open and sleep on close: It comes with a unique feature that on opening of the case iPad automatically wakes up and on closing iPad goes to sleep.
Keyboard stand: It also functions as a keyboard stand to tilt iPad into a comfortable writing position. One can easily use the iPad without tilting it on hand.
Polyurethane coating: The case is made from polyurethane which gives a thin covering to iPad. It is made up of microfiber lining and prevents iPad from dust.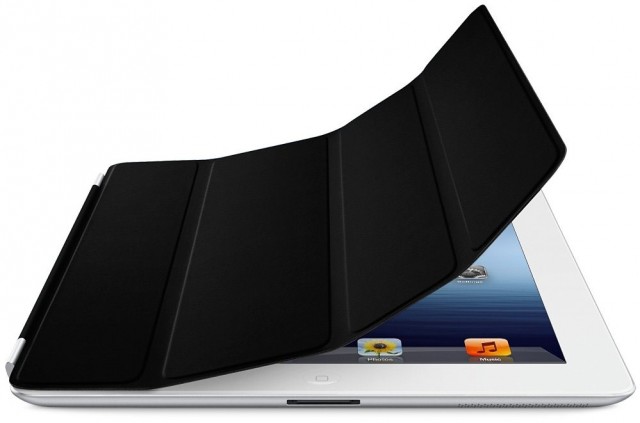 Multiple colors: The smart case is available in six different colors which gives users enough options to perfectly match the cover with their iPad.
Movie stand: The cover can be folded multiple times to make it adjustable as a stand to place iPads to watch movies.


The new smart case focuses on the back of the iPad preventing it from corrosion, scratches and dust. It has been designed in such a manner that it fully covers iPads on all sides. Its multiple folding feature makes it useful for various purposes. It costs about Rs.2,740 but is worth every penny.
The smart case is available in India and can be purchased off the Apple Store.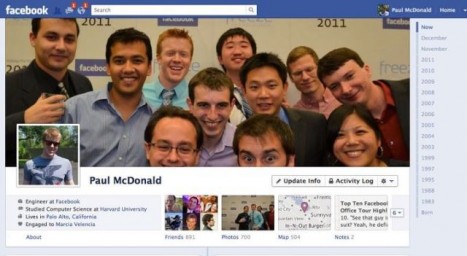 We all know that, from time to time, Facebook has always revamped itself. Latest in the list of offering is its Timeline feature. This feature has already been made available for its web, Android and some iPhone users. Ever since Facebook app was rolled out for iPads in October 2011, despite various versions, it has virtually remained the same. Now promising a major overhaul, Facebook official have been said to be shooting for mid to late January release of newer version of Facebook app of iPad that will integrate Timeline feature.
Timeline profile support for iPad was expected to be available for Facebook users by mid-December along with iPhone and iPod Touch Facebook apps, though the latter two did make the cut. It was delayed for the iPads, it was suggested because of bugs. Though it is said that Facebook Timeline feature for iPad, will arrive sometime in January 2012, expect delays, it has been delayed earlier, updated version can be delayed again if bugs persists. Word of mouth has it, the app will only be available for download via App Store provided Apple is content with the end product, another factor that might stretch the deadline further.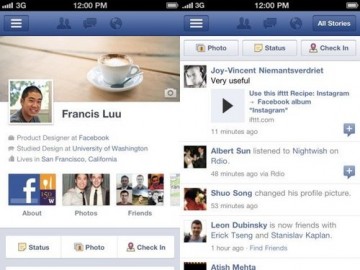 We will suggest, Facebook lovers on iPad to use this time wisely. Log on to your profile on official Facebook.com or just log in via Android or iPhone or iPod(if you are Apple fan) and get acquainted with Timeline profile support. To be honest, it is very confusing as you start but once you get used to it and know what to click when, this is an awesome addition and you will find it very welcoming. That ways, by the time Facebook Timeline does comes to iPad you will be a pro at it. If you were born before Facebook, you can always add life events to the dates when you were around and Facebook was not. You will love the scope it has to offer.
Google has come up with a new Blogger application for iOS users, which enables the latter to use their device to perform each and every function related to blog posting. They can now use the iOS device to make a new blog posting and publish it, and can even save a draft or edit a draft or a published post through that device.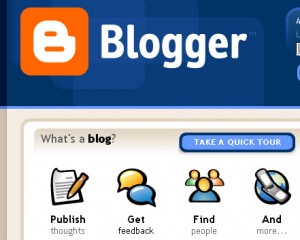 And it is not that they can work only on the text content. They can use the device even for adding photos to their blog, either by choosing an appropriate photo from the gallery or taking a new photo from within the application. Read more
The Indian consumers are showing a growing appetite for smartphones, which explains the launch of world's top smartphone brands in the Indian market. That's really a great trend. But the presence of so many brands sometimes may leave you confused about identifying the best ones, which suits your taste and class, right?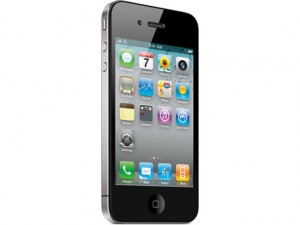 Well, the following brands may be termed as the best 10 of all the smartphone brands available in the Indian market, as of now -
1.) Samsung Galaxy S II
2.) Apple iPhone 4
3.) HTC Evo 3D
4.) BlackBerry Bold 9900 Read more
Intro
The launch of 64GB Apple iPad 2 (enabled with WiFi and 3G) has naturally caught the attention of iPad enthusiasts. This review seeks to take a short tour of the product, trying to identify its key features vis-a-vis those of its predecessor iPad.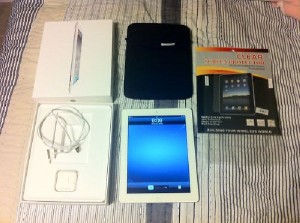 Features
A new look exterior, that is 33 per cent slimmer and 15 per cent lighter than that of iPad. This not only makes the model look smarter, but also makes it easier to carry and handle.
Two cameras (in place of one), boasting 5x digital zoom able to capture 720p HD videos at 30fps. This naturally boosts video storage capacity to a great extent, something that is very thrilling for users for who are fond about video recording.
A 1GHz dual core A5 chip powered by iOS 4.3.This has resulted in a significant speed improvement, thus enhancing the pleasure and comfort in using this iPad model.
A 9.7 inches LED backlit LCD multi-touch display, like what was there in iPad. However, it flaunts a VGA camera at its top, which boosts image recording and storing. Read more
Intro
Indian mobile gaming house Jump Games has launched F1 2010 Game. Now what's that? Well, it is the mobile version of Codemasters' F1 2010 official racing simulation, meant for iPhone and iPod users. It enjoys compatibility with iPad, as well. So how is the game? Let's have an analytical look, feature by feature.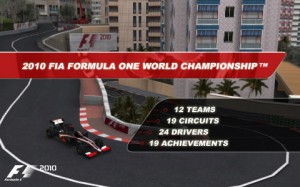 Features of the game
Full roaster of teams, drivers, circuits: The iOS variant of the game enjoys the full roaster of teams, drivers and circuits as it was in the 2010 season. It means you can choose from 24 drivers, 12 teams and 19 circuits. The notable drivers to choose from include current champion Sebastian Vettel as well as former ones Lewis Hamilton, Fernando Alonso, Michael Schumacher and Jenson Button. You can also have 12 choices while selecting your team, and 19 official tracks/circuits to decide on which track you will have your race. This wide range of choice in terms of drivers, teams and racing tracks is itself a great fun, as it gives you the feeling of getting involved with a real life F1 experience.
A good sound effect: A very captivating feature of the game is the decent sound effect that it offers. The way banshee wail is reproduced is really impressive. Read more
Logitech has come up with two new interesting offerings for users of iPad and iPad 2. One is a fold-up keyboard for iPad 2 users, to facilitate typing while the user is on the move. The other is a Joystick meant for both iPad and iPad users, meant to help the latter to have a more captivating and engaging gaming experience.
The keyboard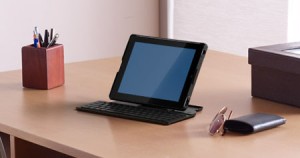 The Bluetooth-enabled keyboard is to come in handy for iPad 2 using professionals and other people who need to work a lot while on the move.
Features:
On opening the keyboard the user will find the slate to be at an optimum angle, making it convenient for him to open it and input text. After being through with work he can easily close it by folding it and then placing it below the tablet.
The accessory gets automatically turned on and off on its unfolding and folding. Apart from convenience, it also helps to save the battery power.
The keyboard is rechargeable through USB, thus relieving users from the trouble of replacing batteries. Read more
In September Apple will have a new intern named Nicholas Allegra.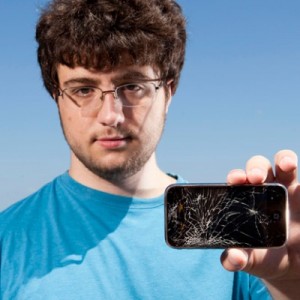 So what is so special about this news? Well, Allegra, better known as Comex, was one of the hackers who developed JailbreakMe. For the uninitiated, JailbreakMe stands for a series of tools by which one can jailbreak iOS devices.
It was only in July that Comex, along with his two companions Grant Paul (aka Chpwn) and Jay Freeman (aka Saurik), came up with JailbreakMe 3.0.  JailbreakMe 3.0 made it possible to jailbreak iOS 4.3.3, and in fact offered the first jailbreak for the iPad 2. It may be noted here that JailbreakMe is absolutely free, and takes only few minutes to hack a device. Read more
Here's another reason for gadget lovers to smile about. Apple has unveiled the iPad 2. This second generation iPad flaunts dual cameras facing front and rear, an upgraded A5 CPU and an improved graphics processing, an innovative smart cover, more apps and many other features. It will be up for sale on March 11 in the US, and the rest of the world will be able to buy it by 25 March, the date of its international launch.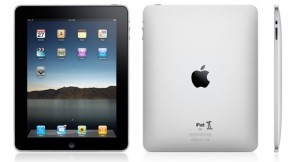 To some, who have been anticipating it, the iPad 2 is in every way a befitting reward. It is lighter, faster and thinner. However, there are some who consider it as just the evolution of its predecessor. If there was a next model of iPad to come, it just had to be better. Also with the rumors of iPad 3 already doing the rounds (expect to come in the next few months approximately 6-9), there might yet be some who wouldn't mind waiting a little further before investing. Well, iPad came, iPad 3 will come but the iPad 2 is right here. Let us take a look under the hood.
The iPad 2 is also available in Wi-Fi only and Wi-Fi + 3G enabled models, size and weight differs accordingly. The Wi-Fi only model a dimension of 9.50"x7.31"x0.34" (HxWxD) and weighs 1.33 lbs (601 g). The Wi-Fi + 3G model's dimension is 9.50"x7.31"0.34" (HxWxD) and weighs 1.35 lbs (613 g) while the Wi-Fi + 3G for Verizon model weighs 1.34 lbs (607 g). At&T and Verizon are the current carriers in the US. Read more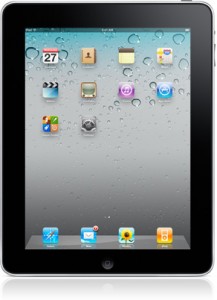 Rather late but finally the Apple iPad gets unleashed in the Indian market. The much awaited and coveted tablet PC that made much news and talks since its release in mid 2010, is here and up for grabs.
The iPad is available in 16GB, 32GB and 64GB capacities. The iPad with 16GB and Wi-Fi only is priced at Rs. 27,990 and the iPad 16GB with 3G and Wi-Fi comes with a Rs. 34,900 price tag while the iPad 32GB and 64GB capacity models with both the Wi-Fi and 3G with Wi-Fi versions will naturally cost more. The iPad 64GB 3G with Wi-Fi is priced at Rs. 44,900. Apple iPad Price in India:
Apple iPad 16GB Wi-Fi – Rs 27,990
Apple iPad 32GB Wi-Fi – Rs 32,900
Apple iPad 64GB Wi-Fi – Rs 37,900
Apple iPad 16GB Wi-Fi + 3G – Rs 34,900
Apple iPad 32GB Wi-Fi + 3G – Rs 39,900
Apple iPad 64GB Wi-Fi + 3G – Rs 44,900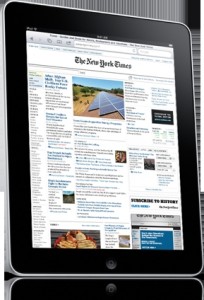 Before any speculations, BSNL (Bharat Sanchar Nigam Limited) whom Apple has partnered, came out with data plans and also announced that it will launch a micro-SIM for the iPad. The service provider has various plans – limited or unlimited and prepaid or postpaid too. 3G data plans which lower than their (BSNL) open market rates were also announced. Here is a list of the BSNL iPad 3G data plans:
Rs 99 – Unlimited – 1 day (pre-paid)
Rs 599 – 6 GB – 30 days (pre-paid)
RS 999 – Unlimited – 30 days (pre-paid)
Unlimited usage with Rs 999 fixed monthly charge + Rs 100 activation charge (post-paid)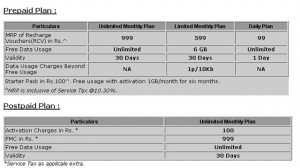 So far, Airtel and Vodafone, first amongst private service providers, has also announced to launch micro-SIM for the iPad. On another note, the iPad 2 – an improvised version of the currently available iPad, is expected to come out with even more and better features and specs, not so far from now.