Inspan Infotech is a leading distribution company in India, that has carved its own place in the Indian market by providing innovative products from listed clients like ViewSonic, Genius, ADATA, CORSAIR, IXA and Mercury among others.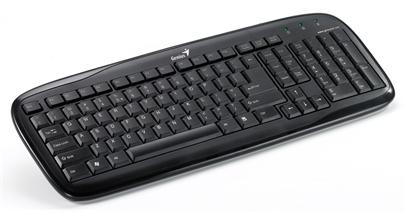 Genius is a Taiwan-based computer peripheral manufacturing company that has a vision to "Create Infinite Value with a Magic Touch". Keeping up with their vision we now have Genius releasing their brand new keyboard, Slimstar 110 in India albeit via Inspan.
Slimstar 110 is a slim, exquisite looking black coloured keyboard for Windows Vista. It boasts of silent keycap structure, that provides user with a experience that is comparable to laptop keyboards by reducing the clicking sound while typing. Spill resistant is another value added feature of Slimstar 110, it is uniquely designed with water drain holes to make sure liquid flows out completely should you spill anything on top or near the keyboard. Coming in dimensions of 445mm x 168mm x 23 mm and Slimstar 110 weighs up to 520g.
"SlimStar 110 keyboard is a beautiful product for all those who require notebook like keyboard for their desktops. SlimStar 110 is a perfect product for those who don't like their typing noise to effect people around them, its silent keycap structure create very little noise while typing." stated Sudhir S, M.D of Inspan Infotech.
Mac users will be disappointed to know that Slimstar 110 only supports Windows7, Vista or XP while interface supported are PlayStation2 and USB. Genius Slimstar110 Keyboard is available for purchase at INR 495, with a warranty period of 3 years and is available ex-stock from Inspan Infotech.
Medadot Corporation, a Texas-based open source software company, has recently released brand new Das Model S Professional Keyboard for Mac. Das keyboard is a series of premium computer keyboards targeted at uber geek.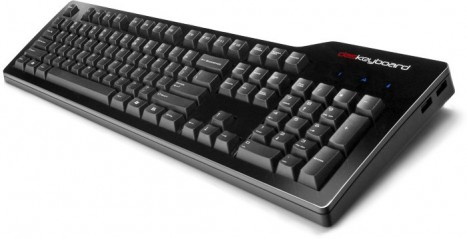 Sure to appeal Mac fans, Model S Keyboard arrives with the best-in-class gold-plated Cherry MX blue mechanical key switches, that provide tactile and audible click to enhance typing experience. It boasts of 104-key layout and has dedicated media keys offering instant access not only for options like mute, stop, pause, next and previous track but also brightness control and eject. As you would expect, Model S Keyboard for Mac comes with Mac specific special keys like Option and Command to provide enhanced comfort level for Mac users.
"Mac fans will appreciate the high-quality and sharp design of our Model S keyboard, especially now that it provides the features and functions that Mac loyalists are used to and expect from their peripheral devices. Essentially, we've introduced the most advanced mechanical keyboard on the market designed specifically for Mac users," said Daniel Guermeur, founder of Medadot Corporation.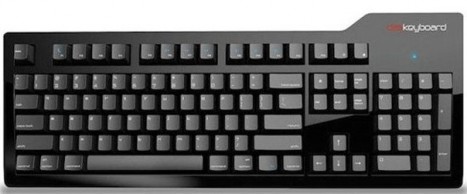 18-inch x 6.5-inch x 1-inch (without extended feet) in dimensions, Model S Keyboard weighs 1.3kgs and has two built-in 1.1 and 2.0 compatible USB Ports. Other attractive features are Sleep function to put your computer into sleep mode with just one click, an Extra long 6.6-foot USB cable to keep your work place neat and tidy, Blue LED Caps Lock indicator, KVM Switch compatilbility, 6-key rollover ability that allows Model S Keyboard to read 6 simultaneously pressed keys to enhance fast typing and ability to charge and sync iPhone, iPod, iPad and other USB OTG devices, without needing an external power supply.
Though Das Model S Professional Keyboard for Mac is priced at INR 6,790, additional 15% off is available if pre-ordered before April 15. According to Medadot Corporation shipping of Das Model S Professional Keyboard for Mac will begin from 16th April 2012.
Logitech has come up with two new interesting offerings for users of iPad and iPad 2. One is a fold-up keyboard for iPad 2 users, to facilitate typing while the user is on the move. The other is a Joystick meant for both iPad and iPad users, meant to help the latter to have a more captivating and engaging gaming experience.
The keyboard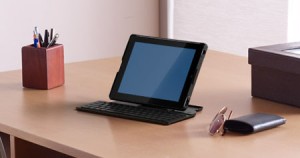 The Bluetooth-enabled keyboard is to come in handy for iPad 2 using professionals and other people who need to work a lot while on the move.
Features:
On opening the keyboard the user will find the slate to be at an optimum angle, making it convenient for him to open it and input text. After being through with work he can easily close it by folding it and then placing it below the tablet.
The accessory gets automatically turned on and off on its unfolding and folding. Apart from convenience, it also helps to save the battery power.
The keyboard is rechargeable through USB, thus relieving users from the trouble of replacing batteries. Read more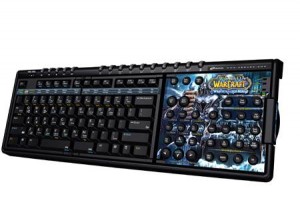 The gaming company, SteelSeries is all about gaming. It provides enhanced gaming with its highly sophisticated products all over the world. This is a good news for the gamers that recently this company launched a brand new gaming bundle that consists of a headset, a mouse pad and a mouse.
According to the latest reports, the Steel Series along with Chroma are planning a PAN India gaming competition in September 2009. This is being done to hunt the best talent in the gaming arena. The winning team will be rewarded in the best possible manner.
The new India exclusive bundle of gaming from Steel Series can be availed for Rs. 3299 from various retailers across the country. For further information, you can visit their official website.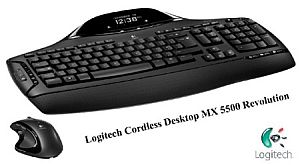 Logitech has come up with the Cordless Desktop MX 5500 Revolution that is arrayed with premium keyboard and mouse in India!
"With the proliferation of digital content, people increasingly need better ways to find and control their digital files with speed and accuracy. Announced last year, the MX Revolution mouse set a new standard for scrolling and computer navigation. Read more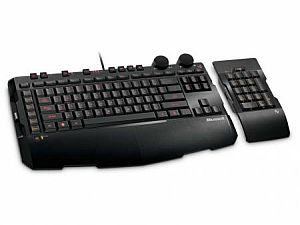 Microsoft has launched the X6 SideWinder gaming keyboard in India.
"The X6 will definitely change the way games are played on the PC. This is truly an avid gamer's best friend allowing him to delve right into the game. Microsoft Hardware, being the leaders in gaming peripherals, has always brought out products that push the envelope and redefine gaming", said Ashim Mathur, National Marketing Manager, Entertainment and Devices Division, Microsoft Corporation India Private Limited. Read more