?Be ready to ask P. Chidambaram, the union finance minister, budget questions on his March 4 Google+ Hangout. This is the first time when an Indian finance minister will be on Google+ Hangout to response to queries about the budget he presented on 28 February. If you want to watch the session live, tune in at 8 pm IST.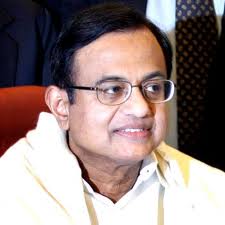 Along with Chidambaram, there will be a group of panelists including Jahangir Aziz, Senior Asia Economist and India Chief Economist, JP Morgan; Anand Mahindra, Chairman and Managing Director of Mahindra & Mahindra; and Amit Singhal, Senior Vice President, Google Inc.
To put up a query, go to the InConversation YouTube channel, where you can submit a question as a video or a comment. Another way of doing that is through the Google India Page at by submitting a question using the hashtag #askthefm.
Gujarat Chief Minister Narendra Modi earlier used Google+ Hangout to address people. He received an overwhelming response with more than 20,000 questions posted. The topic of Modi's Google+ Hangout session was "Strong and Glorious India long cherished by Swami Vivekananda."
Google+ Hangouts is facilitate group video chat. It allows multiple users to join a pre-arranged video conference.
BSNL is all set to launch its Wi-Fi router called Winknet MF50 along with Shyam Networks. The router is of the size of a pocket and the company will soon announce its data plans with 3G capabilities. Winknet MF50, 3G router will act as a Wi-Fi and will allow users to connect their devices like phone, laptop, tablet and others to the router. The router is easy to be carry around and is useful during travelling. BSNL has earlier launched Winknet 3G dongle that also supports 2G connections at a price of Rs. 1,900 with a downloading speed of 7.2 Mbps and upload speed of 5.76 Mbps.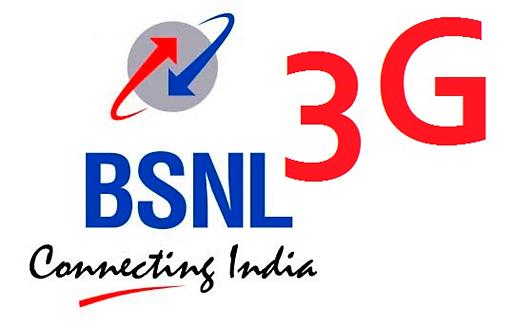 However, LAVA Mobiles is among the first to come up with a pocket wireless router (W 150) in September, 2011. Its most impressive feature was that it could easily share the internet between 32 users within a range of 50 meters. It came with a USB port to connect 2G and 3G dongles and a 10/100 Ethernet port for WAN/LAN connectivity. It has a built-in 2300 mAH Li-ion battery that can be charged using a standard USB charger/port or a computer. It featured a data transmission speeds of 802.11 n @ 150 Mbps, 802.11 g @ 54 Mbps and 802.11 b @ 11 Mbps.
Recently, Kobian introduced a Mercury 3G Mobile Router which can provide connectivity to six devices at the same time. It comes with an additional Li-ion battery to provide a battery back up of 5 hours. It provides a broadband speed up to 7.2 Mbps and supports all the GSM users. The router is priced at Rs. 5,200 and comes with a warranty of 1 year. The device can easily switch between router and modem mode.
BSNL Winknet MF50 is priced at Rs. 5,800. With such a reasonable price and high features, will you buy the router?
Parkinson's disease is a degenerative disorder of the central nervous system that may result into death of dopamine-generating cells in the substantia nigra, a region of the midbrain; the cause of this cell death is unknown. But now, there may be a chance for an early escape. A report from the Oxford University by Gizmodo, Max Little, stated that they are in a middle of making a software to confirm the change in the voice patterns. He even believed that the software will prove to be a great help in detecting the symptoms related to Parkinson's disease. A post in the Pa rkinson's Voice says that the step taken will be a major breakthrough in getting a step closer in detecting the disease at an early stage as the 'voice is affected as much by Parkinson's as limb movements.' In the report explained to BBC, it was stated,"This is machine learning. We are collecting a large amount of data when we know if someone has the disease or not and we train the database to learn how to separate out the true symptoms of the disease from other factors."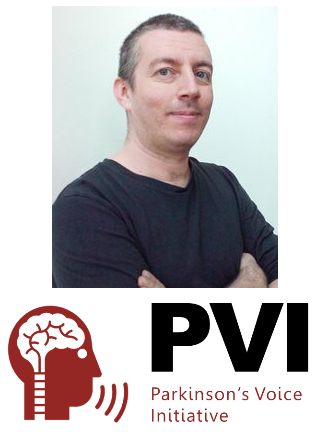 In the research based on the data collected from 50 patients suffering from Parkinson's disease. The voices of these patients were recorded once a week in every six months. With the help of the data, Max managed to 'develop an algorithm to detect changes in voice purely associated with Parkinson's.' In the tests conducted on various people, he found that the software was successful in detecting people suffering from Parkinson's disease from a random crowd with an accuracy rate of 86%.
Max Little announced at TEDGlobal that there will be a further growth of the project and asked people to leave their voices for tests as that would help him to improve the software. Max aims to record 10,000 voices and encourages people from all around the world to participate. He claims if he succeeds in developing this software then he would offer it to the doctors to use it for the diagnosis of the disease. Max further stated to BBC,"We're not intending this to be a replacement for clinical experts, rather, it can very cheaply help identify people who might be at high risk of having the disease and for those with the disease, it can augment treatment decisions by providing data about how symptoms are changing in-between check-ups with the neurologist."
Image Source: http://saypeople.com.
Show Details
Attach Another File
LG has launched a new application for Mobile TV users. The application allows live streaming of the movies using Wi-fi and also through 3G connection. It provides users to choose watching full length movies in different languages including latest trailers of the upcoming movies. The in-built application comes with online widget support. It offers on demand service and provides free viewing of television in the initial 2 months from the day of activation.
The mobile TV app offers various features like watching Bollywood entertainment, pre-recorded cartoons, movie trailers, news, live TV and movies. The application comes pre-loaded in the latest LG smartphone, Optimus L7. Along with the launch of Optimus 3D Max, LG released Optimus L7 that runs on Android 4.0 (Ice Cream Sandwich) Operating System and is powered with a 1GHz processor. The device comes with a 5 Mega Pixel rear camera and a 0.3 Mega Pixel camera in the front for voice conferencing.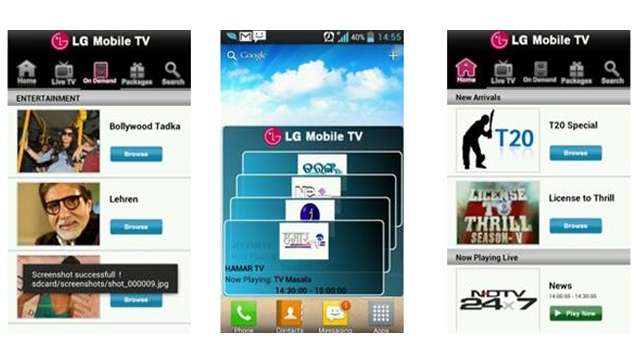 Here is a look at some of the specifications of the phone:
Android (4.0.3) Optimus UI
Capacitive, Multi-touch display
Single core, 1000 MHz, ARMv7 processor
MicroSD slot, expandable up to 32 GB
2400 MB in built memory, 512 RAM
Adreno 200 graphics processor
5 Mega Pixel camera with auto focus and LED flash
Wi-fi: 802.11 b, g, n
GPS
The demand of the consumers regarding the features of the mobile phones have changed. Their perception towards mobile content has transformed, watching TV on mobile phones is on a high rise. Zenga TV has set an example in the past by providing content to users through its partnership with Bollywood to offer movies and trailers. However, its not the first time for LG to come up offering mobile TV to users, it has done it before when mobile TV was not even so much in demand. Few years ago, LG launched the VX 9400 mobile phone claiming it to support MediaFLO Mobile TV technology by Qualcomm. It has been reported that the market value of the company has been on a decline from some time due to its late Android updates in its smartphone handsets. With the launch of its new mobile TV app, LG is trying every possible thing to bounce back in the market.
Google has finally launched its most awaited tablet – Nexus 7 in the market. Nexus 7 is the first and only device which will run on Google's latest Android Operating System – Jelly Bean. With the launch of the tablet, Google has confirmed the Android version of the device as 4.1.
The tablet can be purchased from Google Play and is currently available in US, UK, Canada and Australia. The consumers will be provided a $25 credit coupon for movies and magazines in Google Play on ordering Nexus 7. Senior vice president of mobile and digital content, Andy Rubin informed, that the device will start shipping from mid-July.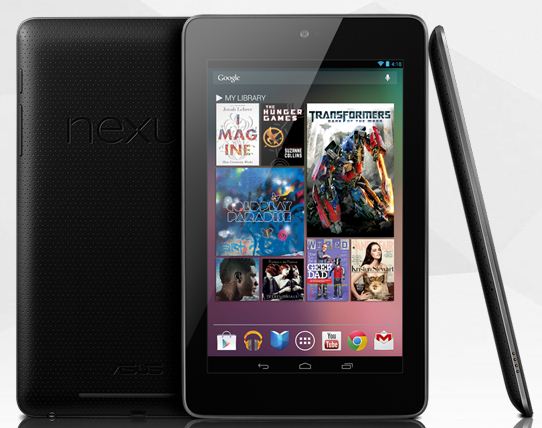 Here is a look at some of the specifications of the device:
Android v4.1 (Jelly Bean) OS
Nvidia Tegra 2 Quad Coreprocessor
Nvidia Tegra 3 chipset
HD video with 720p
8/16 GB internal storage & 1GB RAM
1 GB RAM
7 inches Capacitive Touchscreen IPS HD LCD Display
1280×800 pixels resolution
1.2 Megapixels
Wi-Fi 802.11 b/g/n and NFC connectivity
Audio jack of 3.5mm,Micro USB port 2.0
4325 mAh Li ion Battery
Talk Time: up to 10 hours
Google has launched the device with a 1.2 Mega Pixel camera and has not provided a rear camera, seems the company might have skipped the cost while disabling this feature of the tablet. However, the tablet will run on the latest Android 4.1 OS. Nexus 7 comes with Google Chrome as its default browser along with 18 input languages and a keyboard to predict words as users type.
Google Nexus 7 is priced at $199 (8 GB) and $249(16 GB).
Google confirmed Jelly Bean as its next Operating System by placing its statue at Google's Android garden in their headquarters in Mountain View, California. The Android garden is filled with previous versions of Google Operating System. The company has so far followed an alphabetical order in keeping the names of its OS. Its earlier versions were Cupcake, Donut, Éclair, Froyo, Gingerbread, Honeycomb, Ice Cream Sandwich and Jelly Bean will be the latest to join the family.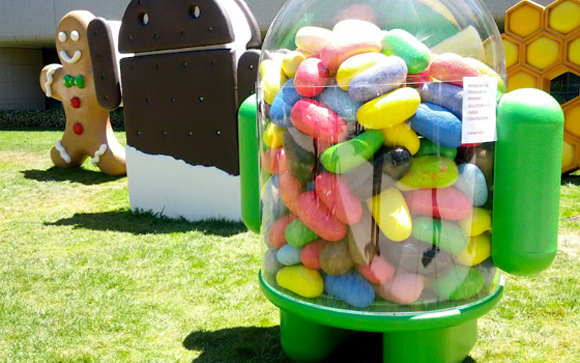 The picture of the Jelly Bean Statue at Google Lawn was posted on Google+ by a developer of the company confirming it to be Google's next iteration of its Android OS. As reported by ABC news, Google will reveal information about Jelly Bean at Google I/O conference in San Francisco. The company will display demonstration of the OS for analysts and media. However, Google has not revealed much about the software.
A lot of speculations have been made over the version of the next Operating System. It was highly expected that the OS will come with a version of 5.0 but Google by mistake revealed the version of Jelly Bean as 4.1 while giving details on Nexus 7 on Google Play Store. However, this detail was soon removed from the page, leaving people guessing over the update.
Google will soon launch a tablet of its own, Google Nexus 7, which will run on Jelly Bean Operating System and is expected to give Apple iPads a tough competition in the market.
The Nike+ Running app which was only accessible in iOS running devices is now available on Google Play Store and can be used by people with handsets running on Android v2.3 (Gingerbread) Operating System or above. The user can easily download the application from Google Play Store and install in their phones. The application is famous amongst runners and helps in keeping the track of the distance covered while running, noting the progress and providing with the inspiration to achieve the target.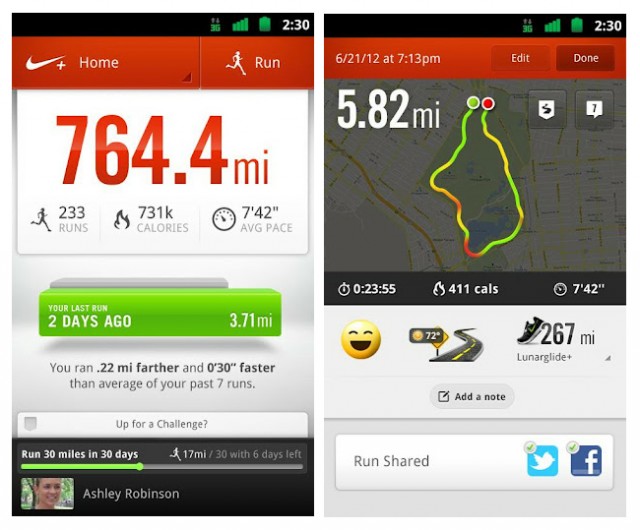 Here is a look at the features of the famous Nike+ Running App from its developers :
From the trail to the treadmill, your phone's GPS and accelerometer accurately record your distance, pace, and time. In-run audio feedback lets you know these metrics at every mile, so you can stay focused on your run.
Get in-ear cheers from your friends on Facebook when you broadcast that you've started a run. Tag the friends you ran with and share a map of your route with friends and family.
Have a song that gets you pumped? Set up PowerSongs to give yourself a boost with the tap of a button.
Our Run Summary makes it easy to view your route and track how you felt, the terrain you tackled, and the weather you endured.
Rotate your phone while viewing the Run Summary to see the breakdown of your run into mile splits.
See how your last run stacks up against your previous seven, and get fresh insights based on your latest activity every time you come back to the app.
The software security brand, Symantec's researchers warn people about a Trojan named Milicenso which is creating threat to a million of users worldwide. Symantec Blog reported that the Trojan commands the printer servers to print garbage files till the time it run out of paper sheets. It also told that this Trojan was first found in 2010 and it may not be on purpose but a side effect. There are a numerous ways through which Milicenso spreads and is mostly associated with an adware called Adware Eorezo designed to focus French users. India, US and few countries in Europe and South America are affected by it.
Symantec Blog also told, :Trojan.Milicenso may arrive on a compromised computer by various means, such as malicious email attachments or visiting websites hosting malicious scripts. The latter often unintentionally occurs when a user clicks a link in an unsolicited email. We have also encountered quite a large number of samples that appear to be packaged as a fake codec. The Trojan creates and executes a dropper executable, which in turn creates a DLL file in the %System% folder. The dropper executable then deletes itself. It even checks to confirm if it's not executing in a sandbox. The threat also performs Eorezo adware activities to withdraw attention from itself to stop analysis.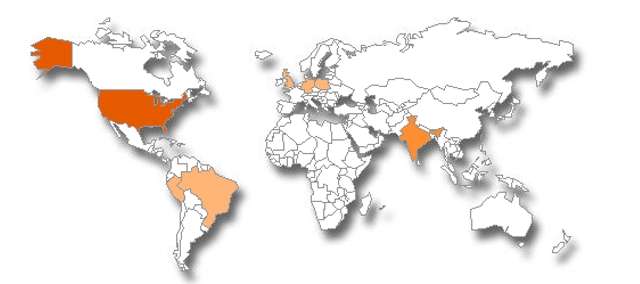 Here is a list of the files created by the Trojan:
%System%\[RANDOM FILE NAME].exe
%ProgramFiles%\[EXISTING FOLDER NAME]\[RANDOM FILE NAME].exe
%Temp%\[RANDOM FILE NAME].exe
%System%\[RANDOM FILE NAME].dll
%ProgramFiles%\[EXISTING FOLDER NAME]\[RANDOM FILE NAME].dll
%Temp%\[RANDOM FILE NAME].dll
The report further said, "Wecontinue to analyze new samples related to this threat and will update our protection coverage as needed. Even as we go to press with this report, we have just learned that SANS have posted further information about a new variant of Trojan.Milcenso. This variant has been modified with garbage padding in the executable designed to help it avoid detection. This goes to show the malware authors are still hard at work trying to spread their warez. Rest assured we are just as determined to stop them. As always, be sure to follow best security practices, and keep your security product updated with the latest definitions."
Google's next Android Operating System Jelly Bean has been in news for a long time and till now there were many speculations been made over its version. Over the last few months, it was being estimated that the next Android version to be released by Google will be 5.0 for Jelly Bean. However, these speculations went in vain as the search engine giant, Google mistakenly revealed the version of of its upcoming Android version as 4.1 instead 5.0 on Google Play Store while providing details about Galaxy Nexus which will run on this version of Android Operating System.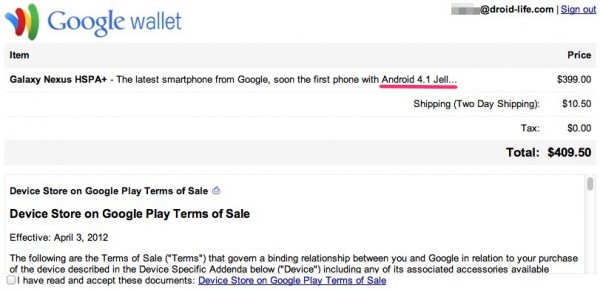 It was reported by Droid life that Google Play Store displayed Jelly Bean as Android 4.1 while listing the features and price for the upcoming Nexus HSPA+ . However, the information was soon removed from the page. Galaxy Nexus is still available on Google Play Store but there is no mention about Android 4.1 anymore.
Here is a look at some of the features of Galaxy Nexus:
2G and 3G enabled
Super AMOLED capacitive touchscreen
16 GB internal storage with 1 GB RAM
5 Mega Pixel camera with autofocus and LED flash
Dual-core 1.2 GHz Cortex-A9
Touch focus, geo-tagging, face detection
HSDPA, 21 Mbps; HSUPA, 5.76 Mbps
720 x 1280 pixels, 4.65 inches
Wi-Fi 802.11 a/b/g/n, dual-band, DLNA, Wi-Fi hotspot
1.3 Mega Pixel secondary camera
3.5 mm audio Jack
Li-Ion 1750 mAh battery
Stand by: up to 290 h (2G), up to 270 h (3G)
Talk Time: up to 17 h 40 min (2G), up to 8h 20 min (3G)
Could this leak in information about the Android version of Jelly Bean by Google be a genuine mistake or the search engine giant has just provided its users with a glimpse of future, what do you say?
Over the last few days, HTC left all its followers in the belief that the company is coming up with a new application similar to Siri. It posted an image on Twitter with a screen shot of HTC One X phone featuring a voice recognition software depicting a chat between a dog and the handset. It left many to think if HTC is coming up with a software to translate the bark of a dog in simple language. However, HTC's Jeff Gordan confirmed on Twitter that the news is false and it was just a joke made for HTC's Pet Week.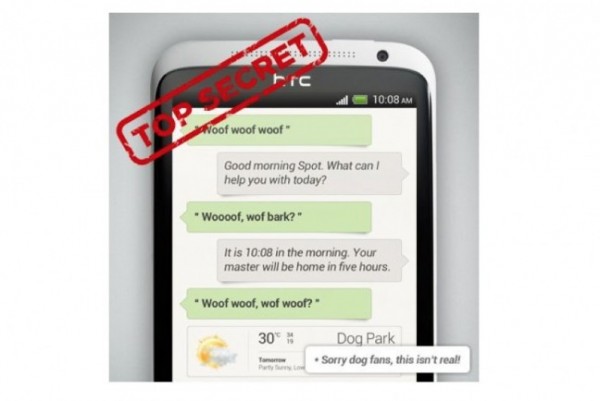 Author Cory Gunther states said in a report, "It looks like HTC has been having some fun this afternoon at the expense of blogs and HTC Android fans everywhere. Tossing up a picture on their official Twitter teasing an upcoming S-Voice and Siri rival voice assistant program — only for dogs. Everyone quickly jumped on it thinking the dog part was just a cover, but yes, this was indeed fake." The report adds, "After posting the photo there was a wave of comments, speculation, and posts popping up everywhere, but it appears this was indeed a fake for "pet week"
However, the joke made analysts and HTC users to think if the new application could be an answer to Apple's Siri or Samsung's S-Voice. The image gave people indications if the company is planning to unveil its voice recognition software along with its next Sense user interface. On the other hand, this joke by the company could be a marketing strategy in order to later launch a voice recognition feature with the sense UI but as for now, Jeff Gordon has denied the news.
The report stated, "Between Apple's Siri and Samsung's new S-Voice, the voice helpers on mobile devices have been a hotly discussed topic as of late. Google is preparing their own codenamed Project Majel that we've heard will be shown off at Google I/O next week as Google Assistant, so this was pretty good timing HTC. HTC's "Top Secret" new voice assistant was looking very similar to Siri and other options, being able to take appointments, share weather alerts and all that jazz but we have a feeling they'll just wait for Google's Assistant to arrive with Android 4.1 Jelly Bean. Whether HTC is working on their own Siri voice assistant rival or not is still unknown. This could technically go both ways and they are just calming the waters for now."