The New Ultra Thin Gaming Grade Mousing Surface from Razer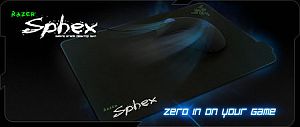 Razer, the leading manufacturer of high-end precision gaming and lifestyle products has announced the release of the first Gaming Grade Desktop Skin Razer Sphex. The skin has an ultra thin form factor that gives it a distinctive look.
Robert Krakoff, President Razer said, "We wanted to offer gamer a simple and less expensive gaming-grade mouse mat alternative and Razer Sphex is ready to be introduced in the market. The gaming surface retains extreme precision and a smoother consistent glide in comparison to the traditional gaming mouse mats in the market".
Here are some features of the mousing surface:
• It has an ultra-thin profile.
• Engineered to perform at highest precision for optical and laser mice.
• Manufactured from high-grade durable material.
• You can repeatedly wipe or wash it.
• Can adhere and detach from any desk surface that makes it fully reusable.
With this mousing surface, you will not have to compromise with the quality or gaming experience. The Razer Sphex will be available in the market from 1 July, 2009 at a price tag of Rs. 1,499.