Panasonic launched 6 brand new 1MOS Full-HD camcorders at the ongoing CES 2012 function in Las Vegas. These models are HC-V700, HC- V700M, HC-V500, HC-V500M, HC-V100 and HC-V100M.
"Panasonic's 2012 camcorders are conveniently sized and extremely versatile for a wide variety of shooting situations. From the light weight and extended recording capability of the HC-V100 and HC-V100M, to the 2D to 3D conversion capability and special effect modes of the HC-V500 and HC-V500M, to the 3D recording capability and High Sensitivity Sensor of the HC-V700 and HC-V700M, there is a Panasonic camcorder model to match virtually any consumer ready to record.", said Chris Rice, Senior Product Manager, Imaging, Panasonic Consumer Marketing Company of North America.
Eastman Kodak Co. (EK), on the verge of being declared bankrupt, has sensationally filed two separate lawsuits against mobile giants Apple and HTC. According to the lawsuits, launched yesterday in Rochester Federal Court, Kodak claims that both the companies have illegally used Kodak technology for image transmission.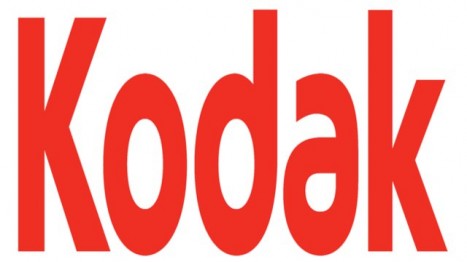 With photographic film demands vaporising day by day, as the world moves onto digital photography, it's Kodak that have taken the most depressing blow. Kodak, are on the verge of bankruptcy, having reported a massive loss of 88% in stock value last year alone. In a desperate attempt to keep themselves afloat in the market, Kodak have said though they don't want the sale of products to be stalled, they do expect "to obtain fair compensation" in return for unauthorized use of their patents.
"We've had numerous discussions with both companies in an attempt to resolve this issue, and we have not been able to reach a satisfactory agreement. Our primary interest is not to disrupt the availability of any product but to obtain fair compensation for the unauthorized use of our technology." stated Laura Quatela, Kodak's Chief Operating Officer and President.
Kodak claims that Apple products iPad 2, iPhone and iPod Touch as well as HTC products namely Flyer, EVO View 4G, Jetstream, Vivid, Amaze 4g, Desire, Hero S, Rezound, Rhyme, Sensation 4G and Wildfire S, all are under scanner for unauthorized use of Kodak's image transmission technology including a feature that allows users to share images directly from camera. HTC meanwhile, has been sued for an additional patent infringement dealing with image preview, that also happens to be the focal point of another ongoing lawsuit, Kodak previously filed against Apple and RIM.
The case details, both of which are filed with U.S. District Court for the Western District of New York (Rochester) are :
Eastman Kodak Co. v. Apple Inc. (AAPL), 12cv6020.
Eastman Kodak Co. v. HTC, 12cv6021.
So far, Cupertino-based Apple Inc. are yet to make any public announcement on the matter, while Taoyuan-based HTC, has responded by saying they have no comments.
Fujifilm India has announced a new addition to its X-series digital camera. Named, Fujifilm XS-1 this a relatively new product that will be showcased at the Mumbai PhotoFair 2012.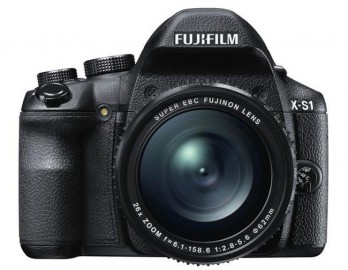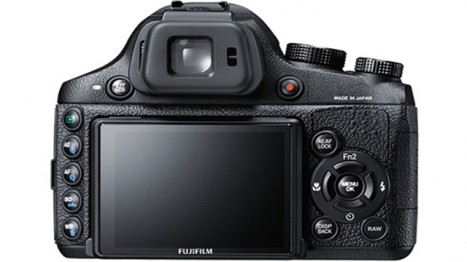 XS-1 features a large 12MP 2/3-inch EXR-CMOS sensor, borrowed from Fujifilm X10, combined with Fujinon 26x optical zoom. Sensitivity can be manually or automatically adjusted, with ISO ranging from 100 to 3200. Guaranteed to capture high quality images with an impressive speed of 10 frames per second, XS-1 has 360° Motion Panorama mode and allows Macro focusing of subjects from as close as 1cm through its Super Macro mode. XS-1 has a 3-inch Tilting LCD screen with special Sunlight mode for better outdoor viewing experience. Fully capable of 1080p video recording and playback, it is sourced by a NP-95 Li-Ion battery. XS-1 measures 135mmx107mm x 149mm dimensionally and weighs around 945 g, inclusive of battery. File formats for still images are JPEG, RAW and RAW+JPEG while video recordings are stored in H.264 (MOV) format. Internal memory of 26GB can be improved by using SD/SDHC/SDXC memory cards.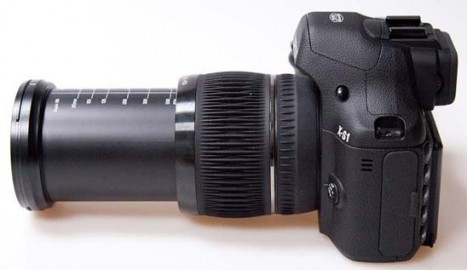 "We are very please to launch our new product X-S1 which is a perfect example of our visionary direction. The features like amazing zoom capabilities, incomparable image quality and DSLR looks in X-S1 expands our X series innovation into the bridge camera arena. With X-S1 you won't miss any action uncaptured, as the High Speed Continuous Shooting Function is capable of capturing action at almost 7fps at full 12 megapixel resolution or shoot at 10fps at 6 megapixel resolution for 8 continuous frames.", stated Mr. A. Rajkumar, Country General Manager of Fujifilm India, at Fujifilm XS-1 press release.
Specifications:
Effective pixels : 12.0 million pixels
Dimension : 135x107x149 mm
Weight : 945 gm
Image sensor : 2/3-inch EXR CMOS with primary color filter
Memory : Internal storage of 26MB, expandable SD / SDHC / SDXC(UHS-I) memory card
Display : 3-inch LCD monitor (tilting)
Lens : Fujinon 26x optical zoom lens
Focal length (f) = 6.1 – 158.6 mm
Full-aperture : F2.8 (Wide) – F5.6 (Telephoto)
Connectivity : USB,HDMI mini connector,
Video output : NTSC / PAL selectable with Monaural sound
External microphone : 3.5 Mini with Stereo sound
Battery : NP-95 Li-lon battery
Fujifilm XS-1 is third installment of Fujifilm X-series and will surely be made available in India come April 2012, priced at approx. INR 45,000.
The new Nikon digital-SLR camera Nikon D4 builds on the the legacy of its predecessor. Designed especially for professional multimedia photographers, D4 provides unparalleled speed and accuracy, to go with amazingly clear image. D4 is an enhanced successor to widely acclaimed Nikon D3.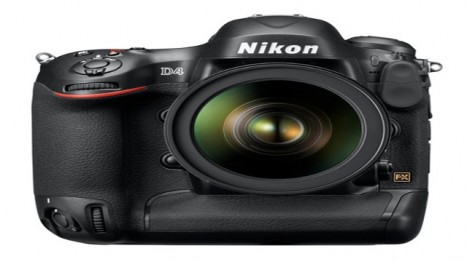 D4 comes with a high resolution 3.2-inch display screen and is engineered to click images in low-light as well as full HD recording. One of the most noticeable enhancement is Advanced Multi-Cam 3500 AF System, which improves on Nikon's famed 51-point AF System. This allows D4 to capture clear moving images, even at the rate of 10fps with full AF. Locked AF permits capturing of images at 11fps. Images captured are of JPEG or RAW format.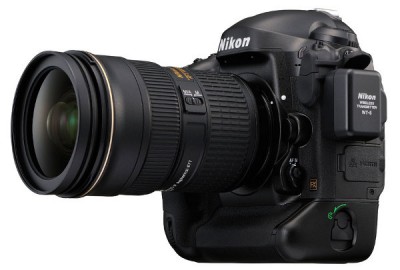 Inside D4′s magnesium alloy chassis, we have a 16.1 MP FX formatted CMOS sensor, Expeed 3 image processing unit, ISO range support from 100 to 12,800 and a slot for UDMA-7 CF and XQD memory. There's also a 91,000 pixel RGB sensor 3D Matrix Metering System that detects colour and brightness. D4 comes with all the features required to produce full HD 1080p videos, though there's an option to record videos at 720p as well. The users can customise shutter speed, ISO and aperture to obtain the results they seek.
Here's a list of features that makes Nikon D4 a benchmark, for upcoming Nikon cameras :
ISO range can be expanded from 50(Lo-1) to a staggering 2,04,800(Hi-4), allowing users to capture near dark scenes such as candle lit dinner or nocturnal wildlife without hassles.
Multi-Cam 3500 AF System that improves on previous Nikon 51-point AF system.
Dual Card slots for Latest UDMA-7 Compact Flash cards and brand new XQD memory cards.
Apart from capturing images in NEF (RAW) format, Nikon D4 is also apt for compressing RAW files, this function not only creates more space for storage but also fastens work speed too. All the aspects of D4 have been carefully designed to focus on quick response and effortless operation of the device. Helping users to produce high quality images, every time they capture a photo. Considered a flagship camera, D4 has been engineered to deliver top quality images under any circumstances. In short, Nikon D4 is everything that Nikon D3 was, and so much more. Goes without saying, D4 can be used in combination with multiple NIKORR lenses including Nikon's vibration reduction lens. Nikon D4 will be presented to the consumers, for the very first time at the annual CES 2012.
Recent developments in the field of technology has led to the revival of sorts for photography enthusiasts. World renowned imaging companies like Canon, Lumix and Nikon, among many, are now competing with each other at a fierce pace. Indian market, being huge and demanding, has always been a great place for them to showcase their products. With new models and versions of cameras being released at a very frantic pace, it is very difficult for the consumer to choose the right alternative.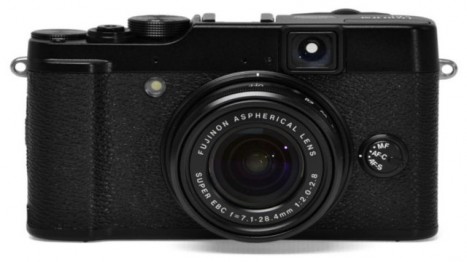 Not keeping far behind, in this cut throat competition is Fujifilm, a Japanese company which launched its Fujifilm X10 model in the Indian market on 12th December 2011. A very simple looking and user friendly camera, X10 draws inspiration from two different subdivisions of cameras, Samsung TL500 and Canon G12 and combines them together effortlessly.
A look from outside gives X10 a staid look, but the features provided are impressive, as it comes pre-equipped with 28-112mm lens, F2.0-2.8 and a massive 2/3" 12 MP EXR-CMOS sensor, it claims to capture low resolution. As mentioned earlier, it takes the fast lens from Samsung TL500 and optical viewfinder from Canon G12, combining two different categories into a hybrid one. This camera could be a very useful tool for macro photography, as claimed by its manufacturers.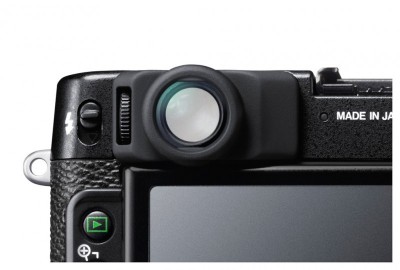 Other features allows manual zooming of lens, which is connected to the optical viewfinder. X10 allows full HD(1080p30) video recording, has capability of identifying over 50 different scenes, optimizing each type of setting, be it low exposure, low light etc. X10′s rather small batteries are rated at 270 shots per charges. It allows you to capture panoramic images in a swift single motion. The most impressive addition to features would however, be the ability to take RAW images, which highlights the fact that Fujifilms are committed to moving on ahead with the time
Specifications
12MP EXR CMOS sensor
28-112mm F2.0-2.8 lens
Optical viewfinder (85% coverage)
2.8″, 460,000 dot LCD
Extensive manual control
Raw shooting and in-camera Raw conversion
Continuous shooting up to 7fps at full resolution (10fps at 6MP)
Mr. K. Tanaka, MD, Fujifilm India, believes that this device is "ahighly advanced compact camera with specifications that follow in the footsteps of the multi award-winning Fujifilm FinePix X100". Priced at an affordable Rs. 45,000 with special prices of Rs. 40,000 also on offer, you can now buy Fujifilm X10 at any authorized store with in India. X10 is sure to provide users some enjoyable photography experiences.
While BenQ is known for computer peripherals, monitors and digital projectors, its line of cameras are no less popular with users. And now it has made a new addition to its kitty of camera products with the launch of AE100.
A compact digital camera, AE100 is available in reddish pink and silver, and is mainly targeted at the youths and the price sensitive section of the consumer Read more
Canon has come up with Legria HF R205 Full HD Camcorder. Light and stylish, the product boasts quality features that are sure to catch the attention of target consumers.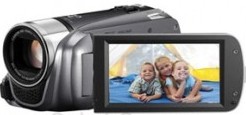 Features and specifications:
Dimensions: 60x61x121mm.
Weight: 270 gm.
Full HD 1920×1080 recording.
Canon HD Video Lens.
Lens Configuration: 10 elements in 8 groups, 1 aspherical lens used.
LCD monitor: 3.0 inches with Touch Panel.
Image Sensor: 1/4.85-inch HD CMOS sensor.
Stereo Condenser Microphone.
18x Optical Zoom.
Digital Zoom: 360x (Movie mode only).
Image Stabilizer: Electronic stabilizer.
Shooting Modes: Smart Auto, P, CINE, Portrait, Sports, Night, Low light, Snow, Beach, Sunset, Spotlight, Fireworks, Low Light.
FUJIFILM has come up with FinePix T200, a new digicam that is targeted at youths. Compact and lightweight with a smart look, the digicam offers features that youths are likely to identify themselves with, thus giving the product the desired market success. In fact, the way FinePix T200 is going to make snap taking a fun, it is very much likely to catch the fascination of photography enthusiasts cutting across age group Read more
Transcend has launched RDF8 USB 3.0 multi card reader, a high speed multi card reader that photography and video enthusiasts (and professionals) will find helpful to the core. With the help of this card reader, they will now be able to copy hassle free 1080p Full HD video files or high-resolution uncompressed images to their computer.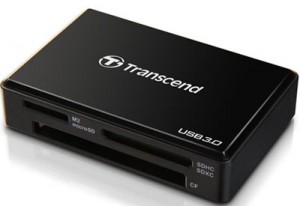 Features

Super-Speed USB 3.0 interface
Compliance with USB 2.0
Offers hassle free transference of high-resolution images and video recordings to the user's computer
Independent of any external power source
LED indicator for card insertion/data transfer
Compatible with SDHC UHS-1, SDXC UHS-1, UDMA6/UDMA7 CF and MSXC cards Read more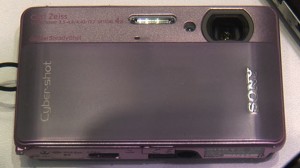 From movies to Television and now cameras, 3D seems to be the order of the day. Sony recently launched two new Cyber-shot digital still cameras (models DSC-TX9 and DSC-WX5). The cute looking cameras are currently world's smallest 3D cameras, capturing 3D images with a single lens system using a sweeping motion.
Both models offer a 3D Sweep Panorama feature, which gives one an opportunity to take panoramic pictures in one press-and-sweep motion. The detail-packed 3D panoramas are created automatically because of the high-speed burst of frames which are stitched together using processing techniques. These images can be viewed in 2D or 3D on compatible 3D televisions. One is required to buy the 3D-compatible HDMI cables and 3D glasses which are sold separately. Read more