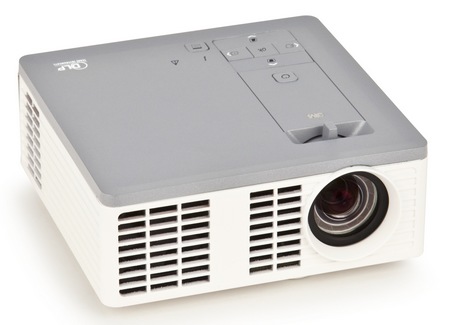 With the introduction of MP410 in India, 3M has expanded their list of LED projectors. It is the world's smallest 300 lumen pico projector and is of a palm size with a weight of 0.5 kg. It comes with an impressive 20,000 hour long LED Life. It offers WXGA / 720p resolution as well as 1GB of on board memory, in addition to it, an option of micro SD memory expansion (up to 32GB) to store a number of movies which can be viewed inside the house or while travelling. It provides an amazing wireless streaming option and is ideal for streaming content wirelessly from smartphone, tablet or laptop.
The projector offers impressive connectivity as it can be connected to any device like smartphones, laptops, AV and iOS devices. It is compact and can fit anywhere, one easily place the world's smallest 300 lumen projector inside a briefcase or in a pocket. Users don't need to wait for boot up or purchase expensive replacement lamps or replace filters as it comes with instant on and off. The projector is ultra bright and has 300 brilliant LED lumens. The device is also in notice for its excellent wireless streaming option as it comes an option of purchasing wi-fi dongle with the projector.
Here, is a look at some the features of the projector:
HDTV: 720p, 1080i, 1080p/60, 576i, 576p
Upto 20,000 hour light source
Memory Card Reader, USB Port, Soft Carrying Case, Closed Captioning
Up to 100″ projected image size
720p/ WXGA resolution projection for great quality, clear images
After launching the MP410 projector in India, Mr. P T Mukund, Executive Director, Display & Graphics Group, 3M India, informed that people are eager and looking forward to such a technology that enable them to be mobile and efficient at the same time. 3M is the first company in the world to have come with LED projectors.
With such excellent features 3M MP410 is expected to be a big hit in the projector market, however, it is now on the people to decide if they are interested in buying the product or not.