Sharp has launched the world's largest LED TV – AQUOS LC-90LE745U with a 90 inch screen display. The television is 6.8 feet in height and 4 feet in width and weighs 141 pounds. It provides with a picture quality of 1920×1080 Pixels and comes in 2D and 3D viewing.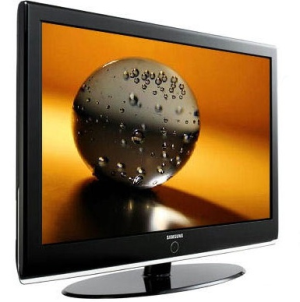 Samsung has announced that it's breaking out the three LED-backlit HDTVs into its own line Luxia.
Luxia, the line of LED TVs focuses on better quality display, energy efficient technique and of-course ultra-thin designs. All the models in the range are an enhanced version of Touch of Color image display, which produces high contrast ratios and a crystal clear detail. With these over an inch thick Luxias, Samsung has managed to squeeze the in-built tuner into a TV. Read more
Right after LG announced the arrival of 5 new models in its Plasma series. The company is all set again to introduce the world's first frameless Plasma TV, the LG PG6. This is the first product ever launched in the TV market that incorporates single-layer technology while completely eleminating the common screen border. The LG PG61 also won the "Best of innovations Award" at the 2008 Consumer Electronics Show.
The PG61 has a look that resembles a black sheet of glass and delivers an amazing and vivid viewing experience. The Frameless Plasma TV features a unique combination of frameless design, enhanced audio performance with invisible speaker features, like in its Scarlet Series. The main features of the product is that its HDMI 1.3 deep colour not only supports 30-bit, 36-bit and 48-bit color depths but it can increase contrast ratio and represent more shades of gray between black and white. The connectivity is also high with 3 HDMI ports, and comes with SIMPLINK features. It has the capabilty to playback DivX/XviD/AVI/MPG/MPEG/MPE movie files, MP3 audio files and open JPEG photographs on the wide screen through its USB 2.0 connectivity feature.
V Ramachandran, Director- Sales and Marketing, LGEIL said, "This is one of the premium and unique series of LG in association with Mark Levinson, which accentuates the beauty of the product, eliminating traditional speaker drivers and associated grills. LG's concept of Life's Good is a promise which LG always tries to fulfill through its products. To live up to the expectations of today's modern consumers in term of innovation, design and technology LG always believes in delivering the best."
According to a CEA SmartBrief newsletter, LG says numerous consumer surveys showed that consumers wanted to see something more than just a conventional plain black TV. Unfortunately the release did not mention the cost and retail price of the PG61.